Method Ginger Mango Better Together Bundle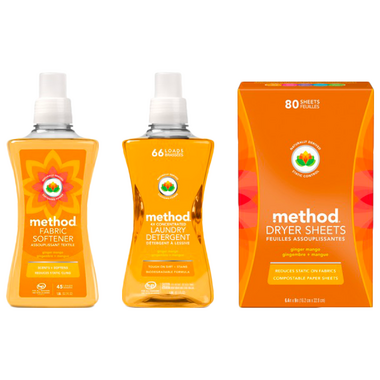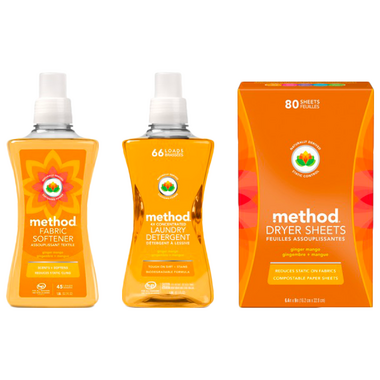 Method Ginger Mango Better Together Bundle

Feel soft and smell good. That's what your clothes will feel like after a spin with these laundry must haves! This Ginger Mango fragrance has a zing of ginger with the tropical fruitiness of a ripe mango to create a crisp, clean scent with a touch of sweetness.
Bundle Includes:
Ginger Mango Detergent - 1.58 L (66 Loads)
Ginger Mango Liquid Softener - 1.58 L (45 Loads)
Ginger Mango Dryer Sheets - 80 Sheets

Ginger Mango Detergent
Method Laundry Detergent is a small bottle with big results! This naturally derived Laundry Detergent fights tough dirt and stains with every wash. One capful of this concentrated formula is all you need to tackle large loads.
Features:

Tough on dirt and stains
4x concentrated detergent
No animal testing involved
Formulated to work in cold water
Keep colours bright and whites white
Bottle is made with 100% PCR materials
Naturally derived, plant based, biodegradable and hypoallergenic formula
Ginger Mango Liquid Softner

Full of naturally derived softening power, this formula reduces static cling while making clothes and linens soft enough to cuddle. Because even your clothes need a little TLC!
Features:

Softens + fluffs fabrics
Reduces static cling
Leaves a fresh scent
Biodegradable formula
100% recycled + recyclable bottle (PCR)
Ginger Mango Dryer Sheets
Made from 100% compostable paper, these planet-friendly dryer sheets reduce static and soften your fabrics. Plus, they make clothes smell delightful. Double win!

Features:
Reduces static cling
Leaves a fresh scent
Softens your fabrics
100% compostable paper sheets
Fully recyclable box
Naturally derived, plant-based and biodegradable formula