Motherease Air Flow Snap Cover Rainforest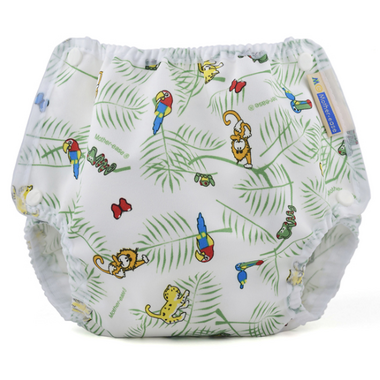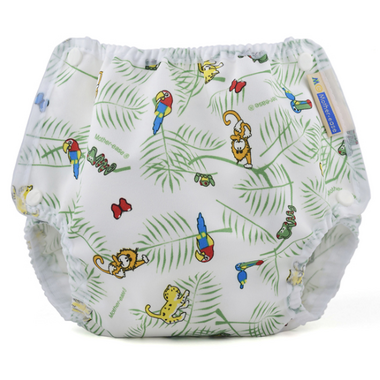 Motherease Air Flow Snap Cover Rainforest
- We're sorry, this product is no longer available!
- Shop for other products in: Cloth Diaper Covers

Finally! A leak-proof cloth diaper cover that refuses to compromise breathability! We searched for over a year to find just the right fabric that would meet our quality standards. The fabric needed to be soft, durable and waterproof. The Air Flow™ Snap Cover, with adjustable snaps at the waist and leg openings has an air ventilation system between the snaps. This allows for maximum air circulation as baby moves, reducing the risk of bacteria by keeping the temperature inside the cloth diaper down. And, the curious baby can't undo them, so they stay on until you take them off.
The Air Flow™ cover is to be used with either the One Size™ cloth diapers or Sandy's™ cloth diapers to create a highly breathable, leakproof diapering system.
Size Small Image Shown Below: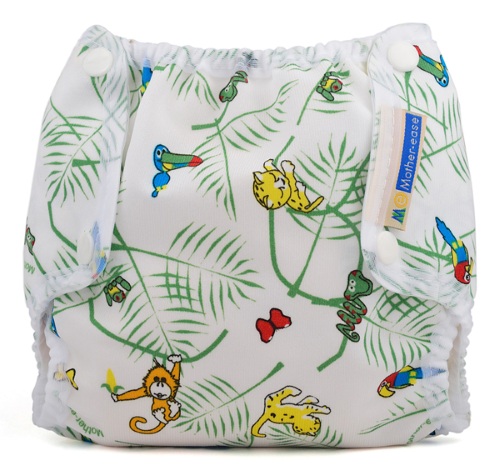 Lida:
more than a year ago
Great cover - the snaps really do allow air flow and circulation. I am using these covers over the stretch bamboozles since the Motherease One Size diapers are too big on my daughter right now. She is 7lb 7oz, so the elastic around the legs on the bamboozle help keep everything in. We are using the smallest setting on this cover and it fits nicely. I'm not sure how well is will fit on a 6lb baby though.
Kelley:
more than a year ago
We recently switched to using primarily Motherease after using other brands for our prior two children. These covers are great and if I want to be sure that my baby's diaper doesn't leak (e.g. overnight) I make sure that I am using a Motherease insert and cover. They do involve doing up two sets of snaps (one for the insert, one for the cover) so take a little longer to put on then some of the other cloth diaper brands so if we are in a hurry we will grab the TotBot diapers, which we also bought from here.

One word of caution the sizing is really off and I wish that instead of pounds they would give a waist and leg width range for each of these. I originally bought a medium for my infant who is nearly 15 lbs. The largest setting on the medium just fits my about 32 lb 2 year-old. I am currently using the small on its smallest setting for my nearly 15 lb baby. He is a solid baby, neither chubby nor unusually thin.
Page
1