Namaste Foods Italian Herb Coating Mix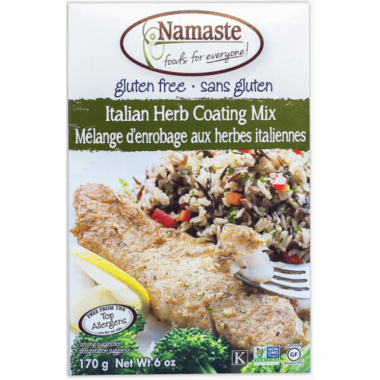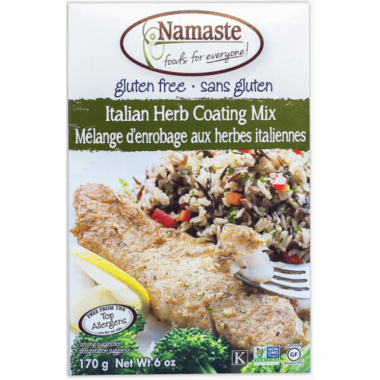 Namaste Foods Italian Herb Coating Mix
The perfect blend of Italian herbs and spices that turn the every day meal into Fantastico! Namaste's Seasoned Coating Mixes are made with flax meal and whole grain flours which puts nutrition in every bite.


Each box contains two seasoning packets and two shaker bags which makes them economical, too. Use on chicken, fish, pork, tofu or vegetables and spice up dinner in a snap!
This product contains no wheat, gluten, soy, corn, potato, dairy, casein, peanuts or tree nuts. Non-GMO, all natural, no preservatives.
Directions:
Moisten meat or veggies in water, milk, slightly beaten egg, buttermilk or ranch dressing and coat with mix. See package back for three preparation choices: baking, frying or a combination of the two.

Ingredients:
Flax meal, Italian seasoning, sweet brown rice flour, salt, tapioca starch, arrowroot starch, sorghum flour, ascorbic acid, rice milk powder, cream of tartar, xanthan gum, baking soda