Natracare Natural Ultra Pads with Wings & Tampon Bundle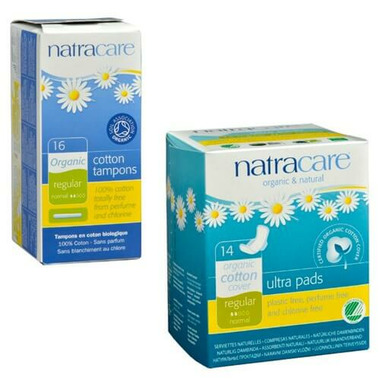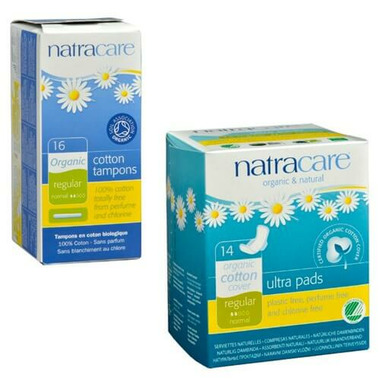 Natracare Natural Ultra Pads with Wings & Tampon Bundle

With this Natracare Natural Ultra Pads with Wings & Tampon Bundle you can have peace of mind that the products you are using each month are safe and chemical free.

Bundle Includes:

Natracare Natural Ultra Pads with Wings - 14 Regular Pads
Natracare Organic Tampons with Applicator - 16 Regular Tampons
Women today are conscious of the need to restrict their contact with synthetic materials and unnecessary chemicals and additives. They are becoming more aware that most of the widely available sanitary pads and tampons sold today, contain a blend of chlorine-bleached pulp, polypropylene, polyacrylates and plastic.
For each monthly cycle, it makes sense to choose pads and tampons that are made from natural materials. Many gynaecologists have advised women with sensitive skin to use Natracare products to reduce their contact with chlorine bleached materials, and also products containing synthetics, latex and super absorbents made from petrochemicals.

Natracare Natural Ultra Pads with Wings

Natracare chemical free pads are high quality products made from only pure and natural materials that are made from plant cellulose. They are not chlorine bleached and are free of rayon, plastics and other similar synthetic materials that have a negative impact on our environment. They are comfortable and reliable and available in different absorbencies and styles. The regular pad is narrower towards the middle of the pad so that it fits the contours of the body more readily, whilst the Slender and Super pads are the same width all along the pad's length for a more traditional fit. The Ultra with wings is a slim pad with the added protection of wings. They are individually wrapped so that they can be kept discretely in your bag.
Natracare Organic Tampons with Applicator
Natracare tampons are made from only certified organic 100% cotton and are the only fully certified organic cotton tampons available in the world today. They are non-chlorine bleached and women can be reassured that they do not contain synthetic materials, such as rayon, or chemical additives such as binders or surfactants. Certified organic cotton removes the risk of direct exposure to residues from chemical pesticides and fertilizers used on traditional cotton.

The applicators have a rounded, petal-shaped end that makes inserting the tampon easier and more comfortable. The applicator is made from biodegradable card.