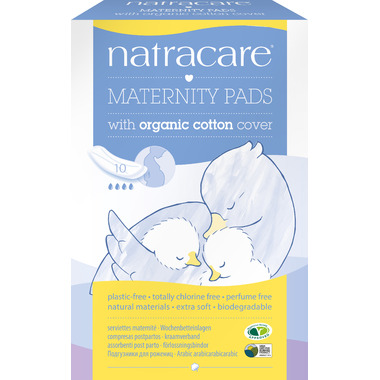 10 Count
Natracare Maternity Pads
is rated out of
5
by
13
.
---
Description
A longer pad with an extra soft cover especially for use after giving birth.
Over the last 16 years, Natracare has established a trusted reputation amongst women seeking a chemical-free choice in sanitary protection. The natural range now introduces the Natracare new mother line, including Natural Maternity Pads and Natural Nursing Pads.
These high quality products, made from pure materials, that are totally chlorine free (TCF), provide new mothers with an untainted choice. Many do not realize that chlorine bleaching, used in many conventional personal care products, produces unwanted by-products called dioxins, which have been linked to cancer, endometriosis, and immune system suppression.
Natracare Maternity pads and Nursing pads are free from plastics, synthetics and super absorbents made from petro-chemicals, which can have a negative impact, both on women's health and the environment. During pregnancy, women are naturally more aware of and concerned about the health and care of their bodies. The pureness of Natracare products can provide women with the necessary reassurance that is so important at this time of their lives.
No chlorine
Natural materials
Latex free
Plastic free
Perfume free
Extra soft cover
Biodegradable
Vegan-friendly
GMO free
Organic cotton

Highlights

Rated

5

out of

5
by
V
from
The perfect maternity pad
These are perfect postpartum pads! Good coverage. No wings so no chaffing. And nice and soft. Also great for making pad-sicles. A friend gifted me these as a postpartum gift and I bought myself a few boxes extra after the fact.
Date published: 2021-07-02
Rated

5

out of

5
by
Holistic Nutritionist
from
An Effective Natural Option
I used these pads for both lochia and slight bladder weakness following labour and delivery. They did exactly what I needed them to do and were quite comfortable. While I know a number of people who swear by adult Pampers, I didn't want to have bleach, etc. close to my private parts following labor. These were the perfect alternative for me.
Date published: 2022-02-09
Rated

5

out of

5
by
CB11
from
Perfect for a very sensitive time
Second time using these pads, they are the only ones I trust for such a sensitive time. Other comment that they prefer something wider and longer which is reasonable, I just always place them on a larger blue disposable sheet like they do in the hospital to catch anything excess but want this pad touching me directly.
Date published: 2021-11-01
Rated

5

out of

5
by
DC
from
the best, buying for friends
at first I was worried about the lack of wings but leakage was never a problem. these feel great, super soft and splashing witch hazel on them really helps. (unlike regular maxi pads, which will just absorb the witch hazel) I will be buying for future post partum friends.
Date published: 2021-08-10
Rated

5

out of

5
by
Lolo15
from
Affordable, lightweight and absorbant
Given the fact that I had to wear a pad for 4 weeks after labour, this pad truly made the experience enjoyable. Soft on the skin, lightweight so you don't feel like you have a diaper on and it's affordable. Would recommend.
Date published: 2022-04-05
Rated

5

out of

5
by
htqwni6
from
Love these!
I absolutely loved these pads. Sooo soft and comfortable. Definitely not for the first week when you're heavily bleeding. I switched to these after a week or so. So soft and didn't hurt my stitches.
Date published: 2020-05-05
Rated

5

out of

5
by
WarmSunshine
from
Non Irritating
I find these less irritating as they don't contain some of the other plastic products as other brands. I continue to use them years after having children, particularly at night.
Date published: 2023-02-21
Rated

5

out of

5
by
Eva C
from
Great for postpartum
These are great postpartum pads (used after a C Section) - good coverage, size and absorbency. Much less bulky than Hospital pads and they fit nicely in underwear, soft & comfy.
Date published: 2021-11-15