Natural Immix Cal. Mag. Zinc Plus Vitamin D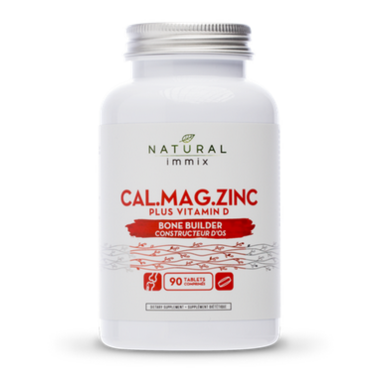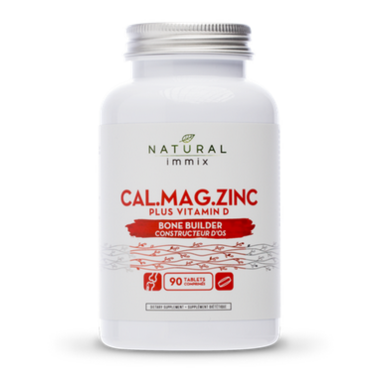 Natural Immix Cal. Mag. Zinc Plus Vitamin D
- We're sorry, this product is no longer available!
- Shop for other products in: Calcium

Calcium and Vit D helps prevent Bone loss / osteoporosis
As an essential part of our diet, Calcium plays many important roles in normal body functions. It is required for strong bones and teeth, regulating muscle contractions and nerve impulses as well as activating cellular enzymes. Magnesium acts alongside Calcium in our muscles while Vitamin D helps absorption and Zinc helps to boost our immune systems. Calcium, Magnesium, Zinc and Vitamin D are safe and effective choices for a supplement.
As a factor in the maintenance of good health, Calcium, Magnesium and Zinc are traditionally used to help in the development and maintenance of bones and teeth. Calcium intake when combined with sufficient Magnesium, Zinc, Vitamin D and other co-factors, may reduce the risk of developing osteoporosis.
Directions:

Take orally 1 tablet, 3 times per day with food or as directed by a qualified health care practitioner.
Take a few hours before or after taking other medications or natural health products.
Ingredients:
Calcium (Calcium Citrate)250 mgMagnesium (Magnesium Oxide)125 mgZinc (Zinc Gluconate)2.5 mgVitamin D3 (Cholecalciferol)200 IUManganese (Manganese Citrate)0.5 mgCopper (Copper Gluconate)1.5 mgNon Medicinal Ingredients:Microcrystalline Cellulose, Magnesium Stearate, Silicon Dioxide, Sucrose, Starch, Gum Arabic, Medium Chain Triglycerides and dl-Alpha Tocopherol.
Natural, Gluten Free, Sugar Free, Energy Eff, Peanut Free, Tree Nut Free, Peanut Free Product, Tree Nut Free Product, Canadian Brand