Natural Immix Green Bee Propolis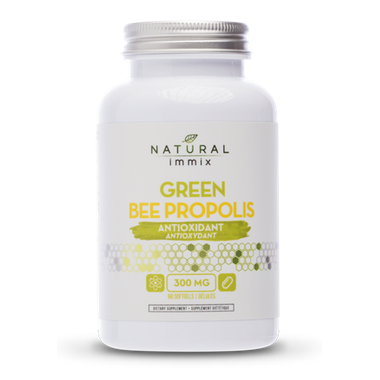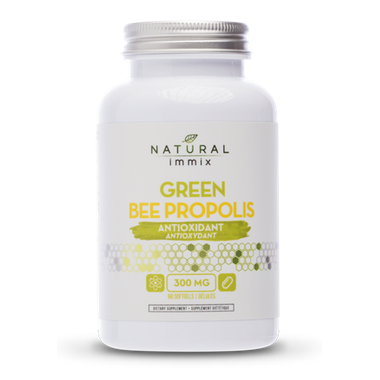 Natural Immix Green Bee Propolis
- We're sorry, this product is no longer available!
- Shop for other products in: Bee Supplements

Source of antioxidents.
Propolis
originates from the Latin words "pro" for in favor of and "polis" for city. Put together, it means in favor of the city. Propolis is a sticky, resinous substance collected by honeybees (
Apis mellifica L.
) from the leaf buds of trees and certain vegetables. Bees gather this and transform it in order to disinfect the beehive, seal cracks, build panels, as well as using it as a microbiocidal agent, disinfectant and also for embalming intruders otherwise difficult to expel due to their size. Propolis, thus, is directly responsible for guaranteeing the asepsis of the beehives, locations prone to developing viruses and bacteria, given their conditions of temperature and humidity. Due to the great number of active ingredients present, Propolis is well known and used for its therapeutic properties, principally for its stimulant action on the organisms' defense system. Notable amongst its properties are its antioxidant and anti-microbial action, its activity as a stimulant and its healing, analgesic, anesthetic and anti-inflammatory activity.
Prized for its antiviral, antibacterial, antiseptic and antifungal properties; 100% lab tested and combined with Vitamin E for its natural preservative properties, Brazilian Green Bee Propolis softgel capsules are rich in bioflavonoids, provide antioxidants and nutrients for the maintenance of good health.
Directions:
Take orally 1 softgel capsule, 2 times per day or as directed by a qualified health care practitioner.

Ingredients:

Brazilian Green Bee Propolis300 mgVitamin E (d-alpha Tocopherol)5 IUNon-Medicinal Ingredients:Gelatin, Vegetable Glycerin and Purified Water.
Natural, Gluten Free, Sugar Free, Energy Eff, Peanut Free, Tree Nut Free, Peanut Free Product, Tree Nut Free Product, Canadian Brand