Natural Polymer Int. Get Naked Joint Health Small Chew Sticks for Dogs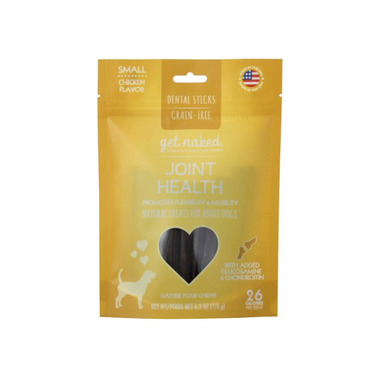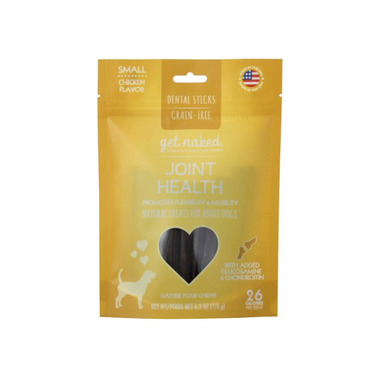 Natural Polymer Int. Get Naked Joint Health Small Chew Sticks for Dogs
Dogs love to run and play, making it important for them to have healthy joints. Get Naked Joint Health Grain Free Dental Chew Sticks, Small 6.2oz are grain-free treats fortified with glucosamine, chondroitin, and omega 3 fatty acids to help support flexibility and mobility in adult and senior dogs. Your furry companion will gain the joint supporting benefits of Get Naked Joint Health chew sticks, while enjoying the scrumptious chicken flavor.
Joint Health, Dental stick
Directions:
5 lbs to 10 lbs 1 stick a day, 10 lbs to 20 lbs 2 sticks a day, 20lbs to 30lbs 2-3 sticks a day.
Not for human consumption

Ingredients:
Dried potatoes, vegetable glycerin, gelatin, water, chicken, natural chicken flavor, organic flaxseed, parsley, chia seed, glucosamine hydrochloride ( from shellfish), chondroitin sulfate, agar-agar, algae meal, capsicum, peppermint.
Natural, with added glucosamine & chondroitin, grain free