Natural Polymer Int. Get Naked Digestive Health Large Chew Sticks for Dogs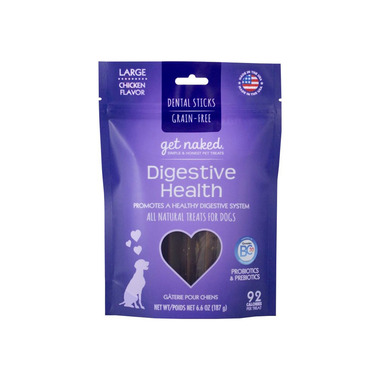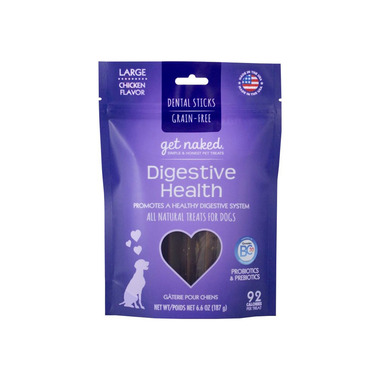 Natural Polymer Int. Get Naked Digestive Health Large Chew Sticks for Dogs
Specially formulated with a grain-free blend of dietary fiber, prebiotics, and probiotics, Get Naked Digestive Health Grain Free Dental Chew Sticks, Large 6.6oz help maintain a healthy digestive system. Added Ganeden BC30, a patented strain of Bacillus coagulans, helps improve the total number of beneficial microflora in the digestive system. Your dog will gain the stomach-empowering benefits of Get Naked Digestive Health chew sticks, while enjoying the delicious chicken flavor.
Digestive Health, Dental sticks
Directions:

30lbs to 50lbs 1 stick a day, 50lbs & up 2 stick a day
Not for human consumption

Ingredients:

Dried potatoes, vegetable glycerin, gelatin, water, chicken, natural chicken flavor, organic flaxseed, calcium carbonate, fructooligosaccharides ( from chicory root), parsley, chia seed, cinnamon, ginger, peppermint, dried bacillus coagulans fermentation product.
Natural, probiotics & prebiotics, grain free.