Nature's Miracle No-Tracking Odour Control Paper Cat Litter
Clumping
10 lbs (5.44 kg)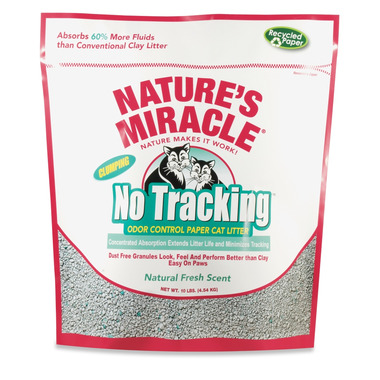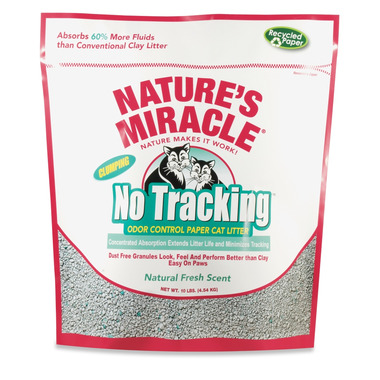 Nature's Miracle No-Tracking Odour Control Paper Cat Litter
Clumping
10 lbs (5.44 kg)
- Max: 2
- We're sorry, this product is no longer available!
- Shop for other products in: Cat Litter

Nature's Miracle No Tracking Clumping Paper Cat Litter offers concentrated absorption that extends litter life and minimizes tracking. The recycled paper is designed to look and feel like clay litter granules to help facilitate an easy transition for your cat. It is easier on your cat's paws, is more absorbent and will not stick to the litter box like clay litter. Unlike clay litter the Nature's Miracle paper litter will not irritate cuts or wounds even after surgery.
Features:
​Natural Fresh Scent
Dust-free paper granules look and feel like clay litter
Absorbs more fluids than conventional clay litter
Continual-release odor control system eliminates touch ammonia and solid waste odours
Pleasant fresh fragrance will not repel and irritate cats
Biodegradable litter made from 100% recycled paper minimizes tracking
Heather:
more than a year ago
The smell of this product is insanely strong and chemical. its like if you took every single air freshener, perfume and scented cleaning product that a crummy dollar store sells and mixed them all together, this would be the resulting stench. I definitely avoid the room my cat litter is in because it gives me a headache, I honestly prefer the smell of cat pee/poo.
It does provide more dust than the corn based products i have used, although much less than clay. it is very fine so it doesn't get tracked around much although it goes EVERYWHERE when kitty kicks it out of the box. the pee clumps seem to fall apart as i'm scooping so i can never get the whole thing.
the one thing i like about this product is that my dog won't go anywhere near it, we used to have issues with him eating litter, but not this stuff (i can't blame him, if it hurts my nose i can only imagine how bad it smells to a dog)
Frances:
more than a year ago
Finally! A kitty litter that both my pet and I really like! My cat seems to appreciate the soft feel of the product and actually takes the time to COVER her stuff! There is very little tracking which in any event is normally trapped on the mat under the litter box. Does a great job of eliminating odor and clumps quickly. I love the fact that it doesn't create an irritating cloud of dust when I pour it into the box...a blessing for my kitty, too!
Page
1