Nature's Truth Vitamins Melatonin 5 mg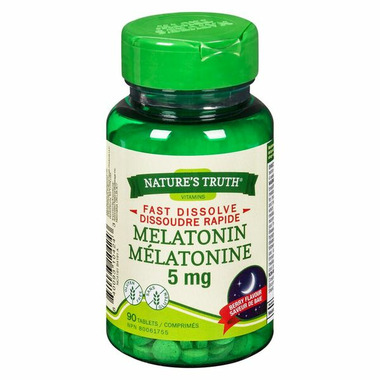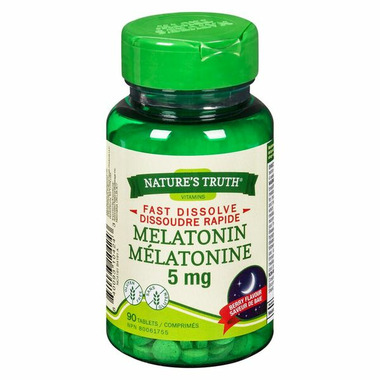 Nature's Truth Vitamins Melatonin 5 mg
Melatonin helps to reduce the time it takes to fall asleep in people with delayed sleep phase disorder. It also helps to re-set the body's sleep-wake cycle.
• Gluten Free
• Fast dissolve

Directions: For adults, take one (1) fast dissolve tablet daily, at or before bedtime. Consult your health care practitioner for use beyond 4 weeks.

Storage: Store in a cool, dry place.

Ingredients:
Non-medicinal ingredients: D-mannitol, beetroot red, crospovidone, cellulose, strawberry flavour, sucralose, ammonium glycyrrhizinate, dextrose, raspberry flavour, magnesium stearate, stearic acid, silica

Medicinal ingredient per tablet: Melatonin 5 mg


Caution:
WARNING: Do not use this product if you are pregnant or breastfeeding. Do not drive or use machinery for 5 hours after taking melatonin. Consult your health care practitioner if symptoms persist for more than 4 weeks (chronic insomnia). Rare allergic reactions and milk gastrointestinal symptoms have been known to occur; in which case, discontinue use. Consumption with alcohol, other medications or natural health products with sedative properties is not recommended. If you have one of the following conditions, consult your health care practitioner prior to use: asthma, cardiovascular disease, chronic kidney disease, depression, diabetes or hypoglycemia, hormonal disorder, immune system disease, liver disease, migraines, or seizure disorders. If you are taking one of the following medications, consult your health care practitioner prior to use: anticoagulant, anticonvulsant, blood pressure medications, immunosuppressive medications, sedative, hypnotic or psychotropic medications, or steroids. Keep out of reach of children. If seal under cap is damaged or missing, do not use.