Nature's Way Alive! Mens's 50+ Gummies MultiVitamin & Mineral Supplement
Cherry & Orange Flavours
60 Gummies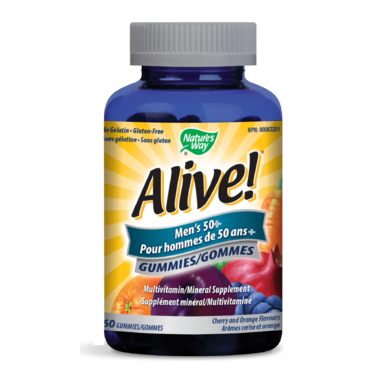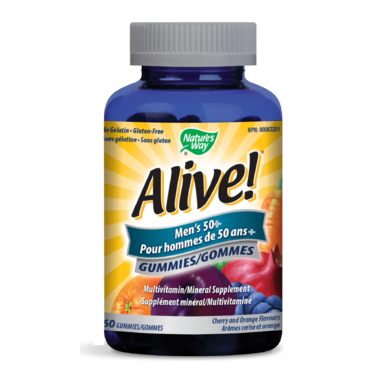 Nature's Way Alive! Mens's 50+ Gummies MultiVitamin & Mineral Supplement
Cherry & Orange Flavours
60 Gummies
Feel alive with Alive! multivitamins. Alive! multivitamin gummies for Men 50+ is a complete formula designed specifically for men over 50 with more than 16 vitamins & minerals including a full B-complex. Alive! gummies for Men 50+ help to maintain eyesight, immune function, and supports a healthy metabolism. Plus it's the only gelatin-free multivitamin gummy and comes in two great flavours – orange and cherry.
Features:

A complete multivitamin specifically formulated for Men 50 and over
Helps in the maintenance and support of skin and bones.
Supports immune function and helps the body metabolize carbohydrates, fats and proteins
Includes a blend of Orchard Fruits & Vegetables
Full B-complex, no gelatin, gluten-free and two great flavours – orange and cherry
Directions:
Adults take 2 gummies daily. Take with food a few hours before or after taking other medications.
Ingredients:
Vitamin C (Ascorbic acid) 30 mg
Vitamin E (dl-alpha-tocopheryl acetate) (15 IU) 6.75 mg AT
Pantothenic Acid (Calcium-d-Pantothenate) 5 mg
Niacin (Niacinamide) 2.5 mg
Zinc (Citrate) 2.5 mg
Vitamin B6 (Pyridoxine hydrochloride) 2 mg
Vitamin A (Palmitate) (2,500 IU) 755.5 mcg RAE
Lycopene 250 mcg
Vitamin B2 (Riboflavin) 212.5 mcg
Folic Acid (Folate) 200 mcg
Vitamin B1 (Thiamine hydrochloride) 187.5 mcg
Biotin 150 mcg
Lutein (Marigold extract [flower]) 150 mcg
Iodine (Potassium iodide) 75 mcg
Selenium (Sodium selenate) 70 mcg
Vitamin B12 (Cyanacobalamin) 9 mcg
Vitamin D3 (Cholecalciferol) (200 IU) 5 mcg
Glucose syrup, sucrose, water, pectin, orange flavour, cherry flavour, fruit and vegetable blend, citric acid, sodium citrate, coconut oil (unhydrogenated), carnauba wax.
This product is closed with a child resistant closure and sealed with an inner freshness seal. Do not use if seal is broken or missing.
Natural, Gluten Free, Peanut Free Product, Tree Nut Free Product, Canadian Brand