(Feverfew Extract)
90 Tablets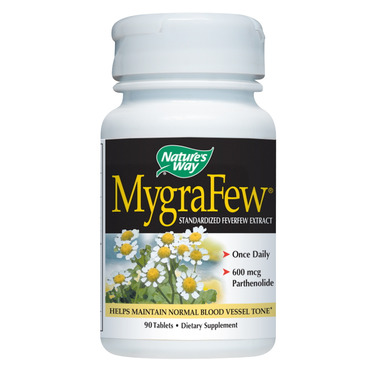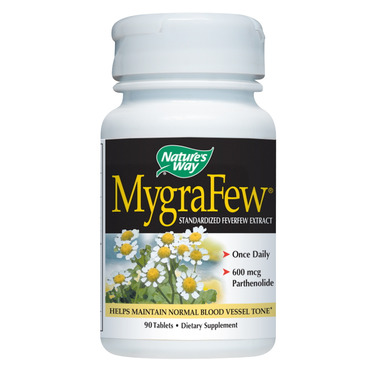 Nature's Way MygraFew
(Feverfew Extract)
90 Tablets
- We're sorry, this product is no longer available!
- Shop for other products in: More Herbal Formulas

MygraFew is a standardized Feverfew extract. Helps maintain normal blood vessel tone. Mygrafew provides the level of parthenolide recommended by both Canadian and British health authorities for optimal results.
Directions:
Take one tablet daily with water. Best results are obtained with continuous use.
Medicinal Ingredients (per tablet):
Feverfew extract (leaf) 0.7% parthenolide (600 mcg) ... 86 mg
Other Ingredients:
Vegetable cellulose, Vegetable stearic acid, Silica, Vegetable modified cellulose, Vegetarian glycerin.
This product does not contain corn, lactose, milk, soy, sugar, wheat and yeast.
Caution:
Not recommended for use by pregnant or lactating women or by children under two years of age. Certain individuals may experience oral discomfort or irritation when using this product. If irritation occurs discontinue use immediately.
Keep out of reach of children.