Nature's Way Sambucus Cold & Flu Elderberry Syrup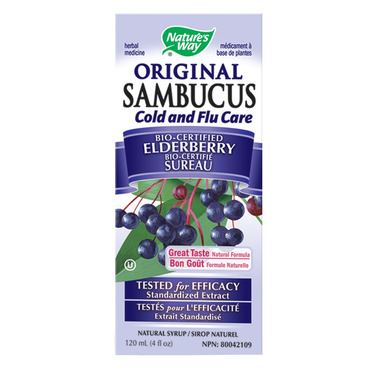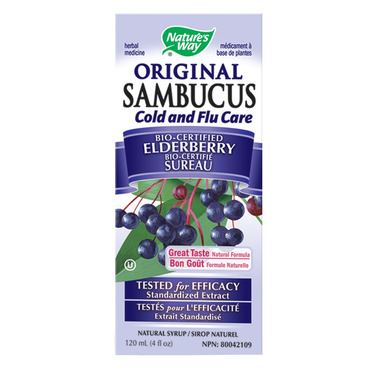 Nature's Way Sambucus Cold & Flu Elderberry Syrup
For centuries the dark berries of European black elder (Sambucus nigra L.) have been traditionally used as a winter remedy. In recent years, medical researchers have proven its efficacy in clinical trials.
This formula is a great tasting natural remedy for children and adults. It contains standardized, Bio-Certified black elderberry extract and natural flavour in an easy-to-swallow syrup base. Nature's Way Bio-Certified Sambucus is the superior black elderberry extract.
Features & Benefits:
Standardized, Bio-Certified extract with proven bioavailability and activity within the body for optimal effectiveness
From premium cultivar elderberries with higher naturally-occurring levels of BioActives constituents
Full spectrum, solvent-free extraction process for maximum potency
Natural formula — no artificial colours, flavours or preservatives
Gluten-free and Kosher certified
Directions:
Adults take 1 tablespoon 4 times daily.

Medicinal Ingredients (per tablespoon/15 mL):
European Elderberry Fruit (Sambucus nigra) ... 9,562.5 mg
Providing 0.3% Anthocyanosides
Other Ingredients:
Purified water, d-fructose, glycerine, citric acid, raspberry flavour, maltodextrin.


Warning:
Consult a health care practitioner if symptoms persist or worsen. Consult a health care practitioner prior to use if you are pregnant or breastfeeding. This product should be avoided in patients with known allergy to plants of the Caprifoliaceae family. If you are taking any diuretic and/or laxative, or any hypnotic and/or anxiolytic drug, consult a health care practitioner prior to use.