Naturvet Adult-Cal Plus Vitamins & Minerals Gel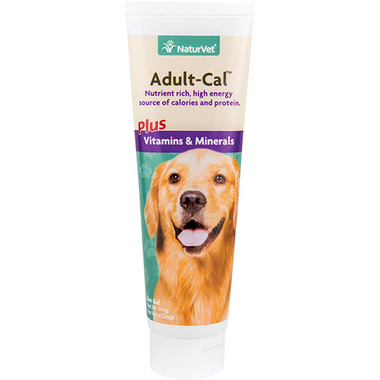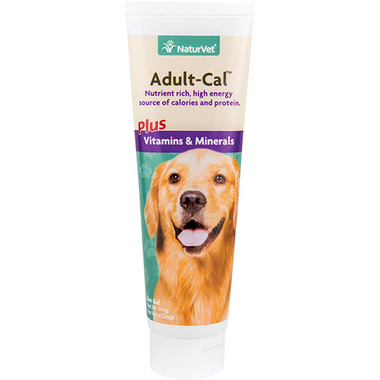 Naturvet Adult-Cal Plus Vitamins & Minerals Gel
Naturvet Adult-Cal Plus Vitamins & Minerals Gel is formulated with Omega-3 and Omega-6 fatty acids that taste like a treat! A few tasty licks provide supplemental caloric and nutritional intake for your pet, and it's a great way to bond with your best friend!



Guaranteed Analysis per Teaspoon (6 grams):




Crude Protein (Min)

0.5%

Crude Fat (Min)

17.9%

Crude Fiber (Max)

3.0%

Moisture (Max)
Omega 6 (Min)

17.5%
135 mg

Calcium (Min)

(0.0158%) 0.70 mg

Calcium (Max)

(0.0167%) 0.95 mg

Phosphorus (Min)

(0.0006%) 0.03 mg

Potassium (Min)

(0.0027%) 0.16 mg

Magnesium (Min)

(0.0067%) 0.42 mg

Iron (Min)

(0.0088%) 0.53 mg

Manganese (Min)

(0.0150%) 0.90 mg

Iodine (Min)

(0.0088%) 0.53 mg

Vitamin A (Min)

1042 IU

Vitamin D (Min)

60 IU

Vitamin E (Min)

6 IU

Thiamine (Vit. B1)(Min)

1.8 mg

Riboflavin (Vit. B2)(Min)

0.2 mg

d-Pantothenic Acid (Min)

1 mg

Niacin (Min)

2 mg

Pyridoxine (Vit. B6) (Min)

0.8 mg

Folic Acid (Min)

0.2 mg

Vitamin B12 (Min)

2 mcg

Omega 3 (Min)

1041 mg





(All values are minimum unless otherwise stated.)
Ingredients: Malt Syrup, Corn Syrup, Soybean Oil, Methylcellulose, Cane Molasses, Water, Cod Liver Oil, Soy Protein Concentrate, dl-Alpha Tocopheryl Acetate, Sorbic Acid (a preservative), Potassium Sorbate (a preservative), Manganese Sulfate, Iron Proteinate, Thiamine Hydrochloride, Niacinamide, Calcium Pantothenate, Magnesium Sulfate, Pyridoxine Hydrochloride, Vitamin A Supplement, Vitamin D3 Supplement, Potassium Iodide, Riboflavin-5'-Phosphate, Folic Acid, Vitamin A Palmitate and Vitamin B12 Supplement.
Always follow the instructions attached to the label of this item!