Naturvet ArthriSoothe Joint Care Gold Liquid
Stage 3 Joint Care
480 mL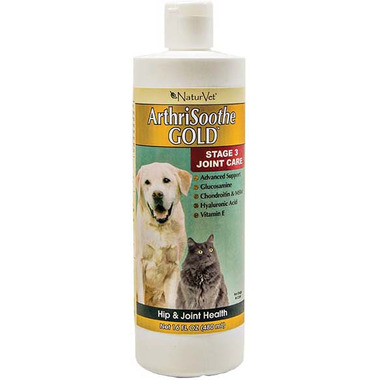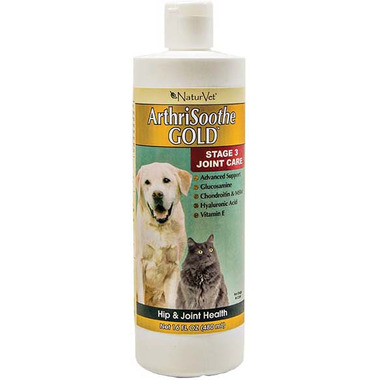 Naturvet ArthriSoothe Joint Care Gold Liquid
Stage 3 Joint Care
480 mL
Naturvet ArthriSoothe Gold Liquid is used to help support healthy hip and joint function in your cat or dog. After years of walks, runs, and general mayhem our four legged friends start to ache and get stiff. Use this Naturvet Arthrisoothe Gold Liquid to help maintain joint flexibility and alleviate aches associated with daily exercise.

Active Ingredients (1.5 Teaspoons): Glucosamine HCL (Shellfish Source) (750 mg), Methylsulfonylmethane (MSM) (750 mg), Chondroitin Sulfate (Porcine Source) (180 mg), Boswellia Serrata (135 mg), Yucca Schidigera (135 mg), Hyaluronic Acid (5 mg), and d-Alpha Tocopheral (Vitamin E) (5IU).

Inactive Ingredients: Calcium Disodium EDTA (Chelating Agent), Citric Acid, Corn Syrup, Deionized Water, Methylparaben, Natural Flavoring, Potassium Sorbate, Propylparaben, Sodium Benzoate and Xanthan Gum.

Always follow the instructions attached to the label of this product!



Nora:
more than a year ago
This product was recommended by our holistic vet where our dog gets acupuncture for his arthritis and elbow dysplasia. We had tried him on Recovery and Metacam from our western vet but both products upset his stomach. He has tolerated ArthriSoothe Gold liquid just fine and it mixes in his food easily. First purchased it thru the vet but was thrilled when I found it at Well.ca, it's much more affordable here! As I'm not taking the product myself it's hard to say how it's making his joints feel, but do know we'll continue giving it to him.
Page
1