Naturvet Brewer's Dried Yeast Formula with Omegas Tablets
Garlic Flavouring
500 Tablets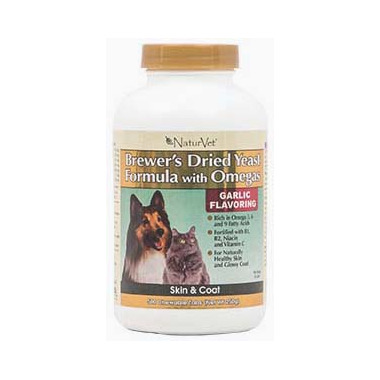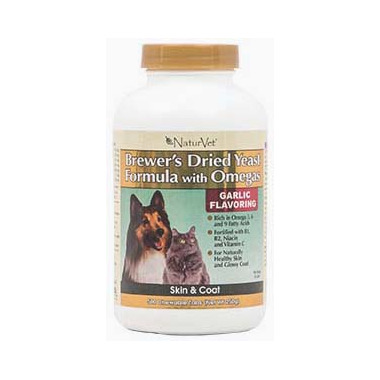 Naturvet Brewer's Dried Yeast Formula with Omegas Tablets
Garlic Flavouring
500 Tablets
Naturvet Brewer's Dried Yeast Formula Tablets are protein-rich with essential fatty acids for healthy skin and glossy coat. Contains top quality debittered yeast that your dogs and cats love to eat.

Guaranteed Analysis (Per 500 mg Tablet): Linoleic Acid (Omega-6) (0.700 mg – 0.14%), Thiamine (0.100 mg), Riboflavin (0.150 mg), Niacin (0.500 mg), Oleic Acid (Omega-9) (0.800 mg), Linolenic Acid (Omega-3) (1.7 mg), and Ascorbic Acid (Vitamin C) (0.100 mg).

Ingredients: Brewer's Dried Yeast, Dicalcium Phosphate, Natural Flavoring, Stearic Acid, Garlic, Microcrystalline Cellulose, Kaolin, Flaxseed, Maltodextrins, Silica Aerogel, Vegetable Oil, Magnesium Stearate, Dried Whey, Niacin Supplement, Riboflavin, Ascorbic Acid (Source of Vitamin C), Thiamine Mononitrate, Citric Acid and Rosemary.

Always follow the instructions attached to the label of this product!