Naturvet Digestive Enzyme Tablets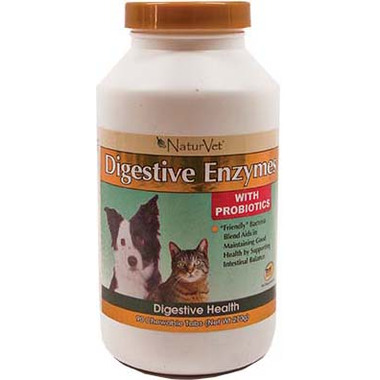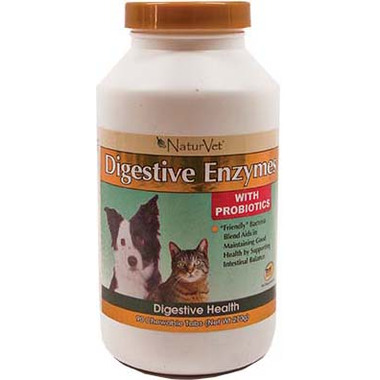 Naturvet Digestive Enzyme Tablets
Naturvet Digestive Enzyme Tablets are designed to support a healthy digestive tract in dogs and cats! Our pets love us more than themselves, which is why we should return that love by using this concentrated full-spectrum, natural digestive enzyme formula to support their naturally occurring friendly bacteria!

Analysis (3 Gram Tablet): Alpha-Amylase (Dried Aspergillus oryzae, var. Fermentation Product) (12.68 grams of dextrinized starch/min/gram) (2200SKBU), Lipase (Dried Aspergillus niger, var. Fermentation Product) (68.88 micromoles of fatty acid/min/gram) (200LU), Cellulase (Dried Trichoderma longibrachiatum Fermentation Product) (0.24 mg glucose/min/gram) (70 CMCU), Protase (120.77 micrograms tyrosine/min/gram) (21000PU), and Probiotics (Bacillus coagulans) (95 Million CFU of Bacillus coagulans at time of manufacture) (95 Million CFU).

Ingredients: Fructooligosaccharide, Dried Aspergillus Oryzae Fermentation Product, Dried Aspergillus Niger Fermentation Solubles, Trichoderma longibrachiatum, Carica Papaya, Dried Bacillus coagulans Fermentation Product, Microcystalline Cellulose, Maltodextrins, Dicalcium Phosphate, Non-Fat Dry Milk, Natural Flavoring, Stearic Acid, Dried Whey, Silica Aerogel and Magnesium Stearate.

For dogs and cats only! Always follow the instructions on the label of this product.