Naturvet VitaPet Puppy Plus Breath Aid Soft Chews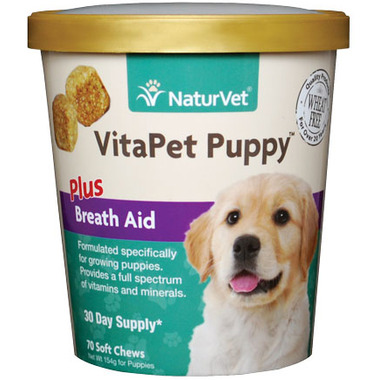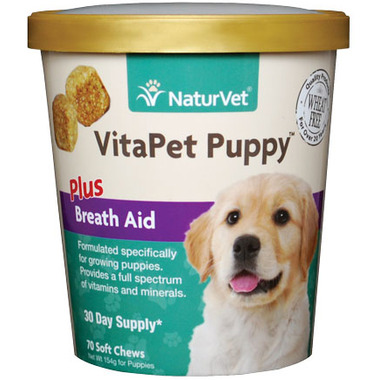 Naturvet VitaPet Puppy Plus Breath Aid Soft Chews
Naturvet VitaPet Puppy Plus Breath Aid Soft Chews are formulated specifically for puppies. These soft Chews provide growing and active puppies with essential vitamins, minerals, amino acids, and fatty acids, all while promoting fresh breath! Support your new family member, the way they intend on supporting you with love!

Guaranteed Analysis (Per Soft Chew): Linoleic Acid (Omega 6) (30 mg ֖ 1.4%), Calcium (10 mg 0.47%), Phosphorus (7 mg ֖ 0.45%), Potassium (0.016 mg 0.002%), Magnesium (0.00023 mg), Iron (1 mg), Copper (0.050 mg), Manganese (0.030 mg), Zinc (1.5 mg), Iodine (0.052 mg), Vitamin A (600 IU), Vitamin D3 (150 IU), Vitamin E֠ (15 IU), Thiamine (Vitamin B1) (0.243 mg), Riboflavin (Vitamin B2) (0.660 mg), Niacin (3.4 mg), Pantothenic Acid (0.684 mg), Pyridoxine (Vitamin B6) (0.250 mg), Folic Acid (0.055 mg), Vitamin B12 (0.007 mg), Calcium Ascorbate (Vitamin C) (10 mg), Biotin (0.030 mg), Cobalt (0.014 mg), Menadione (Vitamin K) (0.300 mg), Linolenic Acid (Omega 3) (6 mg), and Oleic Acid (Omega 9) (5 mg). All values are minimum quantity unless otherwise stated.

Ingredients: Glycerine, Potato Starch, Brewers Dried Yeast, Lecithin, Canola Oil, Parsley Leaf, Dicalcium Phosphate, Natural Flavoring, Deionized Water, Vitamin E Supplement, Magnesium Stearate, Ferrous Sulfate, Tapioca Starch, Citric Acid (a preservative), Natural Mixed Tocopherols (a preservative), Rosemary, Sorbic Acid (a preservative), Vegetable Oil, Ascorbic Acid (Source of Vitamin C), Vitamin A Palmitate, Biotin, Zinc Sulfate, Niacin Supplement, Vitamin D3 Supplement, Vitamin B12 Supplement, Riboflavin, Menadione Sodium Bisulfite Complex, Pantothenic Acid, Pyridoxine Hydrochloride, Thiamine Mononitrate, Manganese Sulfate, Potassium Iodide, Copper Carbonate, Folic Acid, and Cobalt Carbonate.

Always follow the instructions attached to the label of this product.