Nekton Keep Cool Special Compound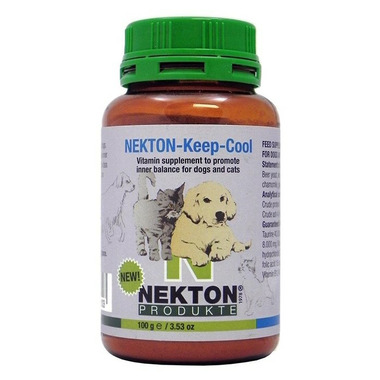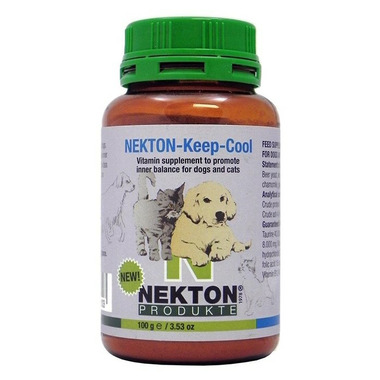 Nekton Keep Cool Special Compound
This innovative new development ensures peace and relaxation for dogs and cats by means of a successful combination of natural components, such as chamomile, ginger and hops, as well as B vitamins and the amino acid L-tryptophan. The high-quality ingredients support production of serotonin in the brain and serves as a mood enhancer. NEKTON-Keep-Cool supports dogs and cats that are nervous and restless, as well as keeping them calm in fearful or stressful situations. The objective is to enable to animal to experience positive learning experiences in stressful situations. The full effects of NEKTON-Keep-Cool develop after solid administration after around 4 weeks and is, if necessary, suitable for long-term administration to consolidate the animal's positive experiences. It does not change the animal's personality!

Features:
Helps reduce stress in dogs and cats
Helps with inner balance
Includes measuring spoon
Directions:
In the initial phase, daily, according to body weight 1-10 kg - 2.5 g of NEKTON-Keep-Cool, 10-20 kg - 5 g of NEKTON-Keep-Cool, 20-45 kg - 7.5 g of NEKTON-Keep-Cool, over 45 kg - 10 g of NEKTON-Keep-Cool. Half the dosage after 4 weeks.

Ingredients:
Yeast, whey powder, hops, chamomile, ginger. Analytical constituents: Raw protein 21.0 %, crude fat 1.2 %, crude ash 43.8 %, raw fiber 1.7 %. Nutritional additives per kg: L-tryptophan 49,000 mg, taurine 40,000 mg, niacinamide 8,000 mg, vitamin B6 (pyridoxine hydrochloride) 2,000 mg, folic acid 15 mg, vitamin B12 400,000 µg.
Caution:
NEKTON-Keep-Cool should be stored dry and out of sunlight, between 15° and 25°C. DO NOT STORE IN THE FRIDGE.