NeoStrata Youth Factor GF Total Regenerating Serum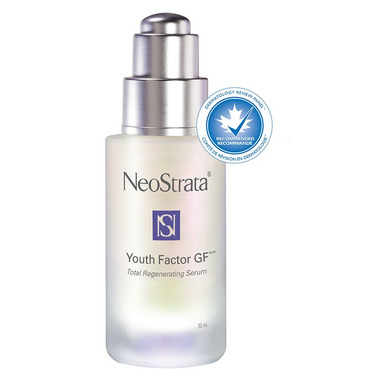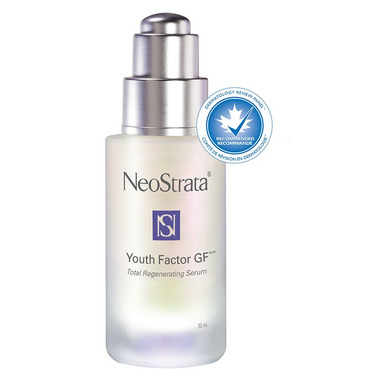 NeoStrata Youth Factor GF Total Regenerating Serum
NeoStrata Youth Factor GF Total Regenerating Serum is a powerful anti-aging serum formulated with 35% active and innovative ingredients.
Ideal for:
All skin types
Multiple signs of aging
Age 45+
Results:
Reduces the appearance of wrinkles by up to 69%
Increases skin hydration by up to 72%
Enhances skin elasticity by up to 60%
Improves skin tone
Key Ingredients:

Unique Epidermal Growth Factor (EGF) technology helps stimulate the skin cell renewal process and regeneration of collagen, elastin and hyaluronic acid in the epidermis. This serum contains 17% of the powerful EGF technology.
A concentrated multi anti-aging complex works in synergy to fortify fragile mature skin and improves fatigability and dehydration. This serum contains 18% of this innovative anti-aging complex.

J:
more than a year ago
I may have to update this after further use, but after a couple of weeks I am not very impressed. I think this is making my skin very tight and dry. I do not like the dispensing format either....a medicine dropper. I don't find it easy to use without it dripping or running. I like the formula itself, very light, sheer, and opalescent but if it continues to make my skin look so taut and dry - not in a good way, even when using a moisturizing lotion too - I will be packing it up!
V:
more than a year ago
I like this stuff a lot - I think it actually does make my skin a bit firmer, and my skin tone is great (NeoStrata products are very good for that, in my experience). I have very oily skin, and it's hard to find effective anti-aging products that don't cause breakouts - NeoStrata is the only brand I have consistently found to work well. I use it in the morning and at night, under a light dabbing day or night cream. A bit expensive, but all you need is one drop. (Be careful not to drop the dropper - it's made of glass, and it will break.)
Page
1