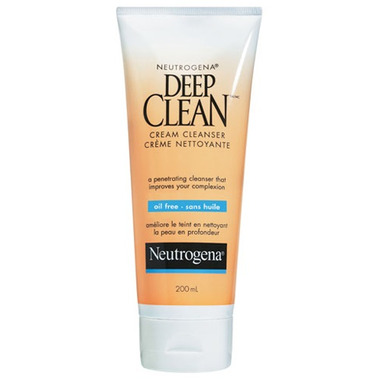 200 mL
Neutrogena Deep Clean Cream Cleanser
is rated out of
5
by
12
.
---
Description
NEUTROGENA® DEEP CLEAN® Cream Cleanser works two ways to improve the look and feel of skin. First, this dermatologist-tested skin care formula cleanses deep down into pores, dissolving dirt, oil and makeup. Then, it removes dead surface skin that can dry, roughen and dull your complexion. Softer, fresher skin will emerge. It cleans so deeply and thoroughly that it improves the look and feel of skin. Your complexion looks fresh and healthy; feels smooth and soft from deeper, more thorough cleansing. It rinses clean, without leaving any pore-clogging residue. Skin looks fresher and healthier, feels cool and refreshed.

Directions: Wet face and squeeze cleanser into hands. Apply to face and massage gently, avoiding contact with the delicate eye area. Rinse thoroughly.

Rated

4

out of

5
by
RandomReviewer2015
from
Found product very useful.
After each use the look and feel of your skin is improved exactly like it advertises. It's best for areas where you know you need a deeper clean than what you will get with your average cleanser so that's why i like it. I also found any drying factor on your skin with this product is very, very low (even with using it lots) and i have sensitive skin so the odd occasion my skin gets too dry and bothers me i just use it a little less exactly like the bottle says. this product also helps pretty good with my back acne so i been using it almost every time I shower. The bottle lasts a long time too i don't think you will go through it quickly.
Date published: 2015-07-22
Rated

5

out of

5
by
berrie
from
I love this product!
This cleanser is one of my all time favourite cleanser. It really gives me a deeply, cleaned face when I used it. I love the tingly feeling it gives when I'm using it, makes me feel really refreshed after use.
Date published: 2013-03-06
Rated

5

out of

5
by
LadybugMichelle
from
Awesome!
Leaves skin soft and clean. Gentle but works great!
Date published: 2013-03-14
Rated

4

out of

5
by
Angela78
from
Good Cleanser :)
Although this cleanser doesn't have any amazing properties, it has a nice and suttle fresh scent. The price is good for the amount of cleanser in the tube. It dried out my skin a little bit but a definite improvement from my previous cleanser - nothing a little bit of cleanser can't fix. Also, it cleans well and doesn't leave a residue.
Date published: 2013-11-24
Rated

4

out of

5
by
Sydney
from
It was good while it lasted
I had been using this for a few years with no issues, but then I started breaking out with covid and the masks. It worked before the masks but not with the masks so I switched to a different brand but still no luck :(
Date published: 2020-11-23
Rated

4

out of

5
by
asylv082
from
Works great
The scars on my face are fading away without bleaching my skin (having brown skin/ Jamaican) and it's perfect! Help's get rid of the oil too (especially around my nose).
Date published: 2014-03-10
Rated

3

out of

5
by
marthaplus
from
listen my request pathetic product
I am a long time user of your product, finally i thought of using this product and i can see in the mirror redness all over my back
Date published: 2015-08-04
Rated

5

out of

5
by
epcjay
from
Gentle deep cleansing
It deep cleans my face without drying it. It also has a nice scent, too. I highly recommend this product.
Date published: 2013-03-30