Neutrogena Sheer Zinc Suncreen Lotion Broad Spectrum SPF 50
Neutrogena Sheer Zinc Suncreen Lotion Broad Spectrum SPF 50
is rated out of
5
by
43
.
Neutrogena Sheer Zinc Sunscreen Lotion Broad Spectrum SPF 50 is a mineral sunscreen that features Neutrogena's breakthrough Purescreen® naturally-sourced 100% zinc oxide technology. This gentle formula delivers superior broad spectrum protection against burning UVB and aging UVA rays - with 2x better UVA protection than the leading mineral sunscreen (that contains only mineral active ingredients). Plus, it's mild even on sensitive skin, and it's free of fragrance, parabens, phthalates, dyes, and irritating chemicals.
Neutrogena's Dry-Touch technology ensures that this sunscreen dries with a non-greasy, lightweight finish. It's also easy to apply.
Features
:
Hypoallergenic
Sweat and water resistant (80 minutes)
Non-comedogenic (won't clog pores)
Oil-free
Dermatologist tested
Recognized by the Canadian Dermatology Association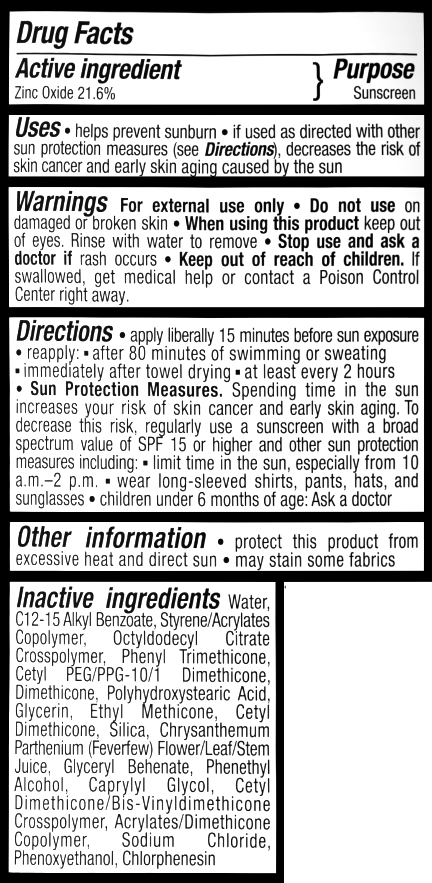 Similar Body Care Sunscreen
Other Neutrogena Products
Rated

2

out of

5
by
Meesh
from
Strong scent, awful rash but goes on smooth/light
I was so excited to try this because Hydro Boost moisturizer is great. But within an hour of putting it on, it gave me a terrible, burning rash. Good thing I tested only in a small area. It was such a nice texture too - I even thought it was my favourite sunscreen texture ever for that first hour lol (hence the two stars since it could work for others). Pros: it goes on light, not as greasy as other sunscreens Cons: DEFINITELY patch test as it's not for everyone, strong scent if you're sensitive
Date published: 2020-12-31
Rated

3

out of

5
by
Nosh
from
I want to love it, but I don't :(
I got this because I wanted to get a brown skin friendly sunscreen and it definitely is that - there is no white cast at all. I love the hyrdro boost concept, but your face ends up looking shiny rather than hydrated (not a glow). I didn't mind that look that much however the issue came about when I went out and suddenly my eyes started burning...! I don't know if some of the product ended up on my eye, but it was bad burning that I had to wash off my eyes with cold water. I tried it again and every single time there was the burning sensation on my eyes so sadly, can't use this. I recommend it if you have dry skin and if it doesn't burn your eyes then it will be amazing. Don't recommend if you have oily skin. If the eyes burning thing is common with any other reviews then avoid this for sure.
Date published: 2021-06-20
Rated

1

out of

5
by
JL
from
Got a rash/break out
I saw this being advertised on a talk show, and I heard good reviews about this product. I have used Neutrogena's Ultra Sheer Dry-Touch before and had high hopes for this new product. However after using it on my face, I got an allergic reaction to it: red bumps on my face (mainly around my cheeks and along my jaw line) and also got pimples. At first I thought it might've been an allergic reaction to something else, but when I used the product again today (after 2 weeks) it happened again! I'm going to discontinue using this product, and go back to my usual face sunscreen. I would say that this product is not for everyone.
Date published: 2020-07-27
Rated

5

out of

5
by
Rebecca
from
Feels lovely on the skin
My face in particular is quite sensitive and many sunscreens burn quite a bit. I was intrigued when I found this one as I already like the feel of the Ultra Sheer Dry Touch line but still had difficulty using that line on my face. This sunscreen goes on nicely and absorbs fairly easily into the skin. I don't experience any burning or sensitivity. It does leave a fair bit of a white cast, but that is going to be hard to avoid with this high a % of zinc oxide. A light layer of mineral foundation covers that up with ease. Highly recommend!
Date published: 2020-04-19
Rated

5

out of

5
by
Ana
from
Super light sunscreen
I've received this sunscreen to try for free from ChickAdvisor. I normally do not feel comfortable wearing sunscreens because they're usually greasy and have a heavy texture. But this one from Neutrogena has a super light texture and it is not greasy at all. The smell is fresh, with a very "summery" vibe, it does not have the very typical smell that most sunscreens have. The value is worth the quality of the product. I also consider it to be gentle enough to be applied on my face skin. I would definitely recommend it to a friend.
Date published: 2018-04-21
Rated

3

out of

5
by
Rachel25
from
Please make fragrance free
Otherwise what would be a really good sunscreen for the fact that it blends so effortlessly, is not greasy and doesn't leave a white cast. I can see that the gel-cream formula is quite unique to the North American market but the fragrance just ruins it. I got such a bad headache from the fragrance, I couldn't even apply it near my face. I can't really say that I would recommend this to anyone as they could have a similar reaction or breakout. Please leave fragrance out of your products Neutrogena they are awesome without it.
Date published: 2018-08-22
Rated

5

out of

5
by
Elle25
from
Amazing for oily dehydrated skin!
This is a dream sunscreen for people who hate wearing sunscreen. As someone with oily acne prone skin that gets dehydrated from using Retin A finding the right SPF has been a project. Most are too greasy or clog my pores or looks terrible under make up. This stuff has been a life saver. It goes on like a gel moisturizer and doesn't get greasy. It absorbs right away. It does have a light fragrance but I've found it doesn't bother me. Definitely check this out if you're struggling to find a daily sunscreen for oily skin.
Date published: 2020-01-16
Rated

3

out of

5
by
Zara
from
Change formula
I'm using this sunscreen form last two years and used to love it but recently bought 4 pack to stock up on my favourite sunscreen because of current pandemic situation but all four bottles doesn't suit my skin they irritates and feel itchy I don't know if they changed it's formula or what really disappointed.
Date published: 2020-06-21