New Chapter Healthy Skin Bundle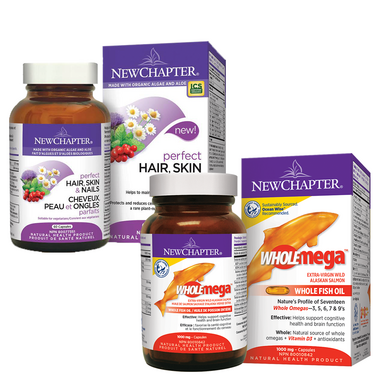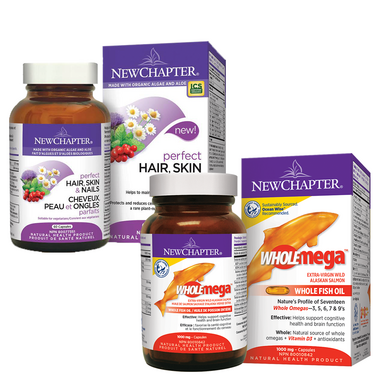 New Chapter Healthy Skin Bundle
Illuminate your natural beauty with the New Chapter Healthy Skin Bundle.
Bundle Includes:
New Chapter Wholemega Extra-Virgin Wild Alaskan Salmon Oil - 1000mg - 60 soft gels
New Chapter Perfect Hair Skin & Nails - 60 vegetarian caps
Alaskan Salmon Oil Details:
Nature's Profile of Seventeen Whole Omegas—3, 5, 6, 7 & 9
Omega 3, 5, 6, 7, and 9's are fatty acids found in wild fish and often referred to as "good fats." Omegas are present and play an important role in the human cell. Specifically, Omega fatty acids support cognitive health and brain function. They have been shown to support the development of the brain, eyes, and nerves in children and adolescents.
Wholemega is a whole fish oil that delivers the natural profile of 17 Omega fatty acids found in one of Nature's true superfoods—Wild Alaskan Salmon.

Features:
Whole: Natural source of whole omegas + Vitamin D3 + antioxidants
Effective: Helps support cognitive health and brain function
100% Wildly Pure Salmon

Gluten free
Non GMO
Allergy Alert: Contains fish.Recommended dose:
Children (1–8 years), Adolescents (9–18 years), Adults and Pregnant Women—Take 2 softgel capsules daily with water.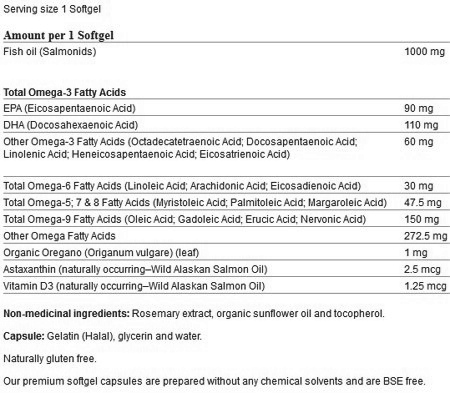 Perfect Hair, Skin & Nails Details:
New Chapter Perfect Hair, Skin & Nails illuminates your natural beauty with probiotic-fermented Biotin that support your natural production of keratin. Rare Plan-nutrient Astaxanthin provides antioxidants that protect cells from free radical damage. Enhanced with superfood botanicals like organic chamomile.
Benefits:
Helps to maintain healthy hair, skin & nails with fermented Biotin
Protects and reduces cell damage with Asaxanthin, a rare plan-nutrient from organic algae
Non GMO Project Verified
Suitable for Vegetarians
Suggested Use:
Take 1 Capsule daily. To avoid digestive upset, take with food/meal.
Ingredients:
Biotin (from culture media), Organic Haematococcus pluvialis algae
Astaxanthin, Organic Reishi (Ganoderma lucidum, Ling zhi) (mycelium and fruiting bodies)
Energy Support Blend (from culture media):
Organic Schizandra (berry), Organic Maca (root), Organic Chamomile (flower)
Digestive Support Blend (from culture media):
Organic Aloe (leaf), Organic Peppermint (leaf), Organic Coriander (seed), Organic Cardamom (fruit), Organic Artichoke (leaf)
Other ingredients:
Ferment media (organic soy flour, organic gum acacia, organic Saccharomyces cerevisiae, organic maltodextrin, organic orange peel powder, lactic acid bacteria [L. acidophilus, B. bifidum and L. rhamnosus], papain [deactivated], bromelain [deactivated] and organic safflower oil), capsule (pullulan [Aureobasidium pullulans], carrageenan, water and potassium chloride), silicon dioxide, organic brown rice and tocopherols.

Contains: Fermented soy and fermented wheat (as food source for Saccharomyces cerevisiae).†
† The wheat has been processed to allow this food to meet the Food and Drug Administration (FDA) requirements for gluten-free foods.