New Roots Herbal Forsight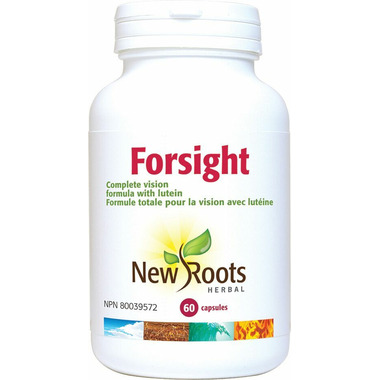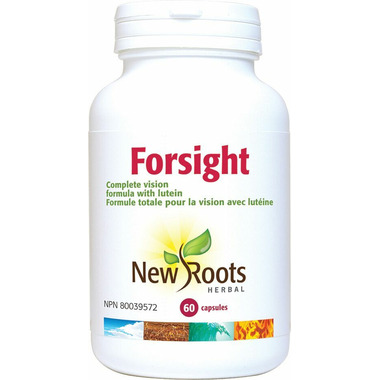 New Roots Herbal Forsight
- We're sorry, this product is no longer available!
- Shop for other products in: Oral Eye Supplements

Forsight was designed to be the most complete therapeutic vision formula available in a single capsule. Supplementing the 20 nutrients in Forsight can help significantly lower your risk of developing macular degeneration and cataracts.
Protects against macular degeneration and cataracts
Safeguards your retinas from high levels of UV radiation
Maintains vibrant, healthy eyesight
Most comprehensive formula for the clearest results
Directions:

Adults: Take 2 capsules daily with a meal containing oil/fat or as directed by your health-care practitioner. If you are taking other medications, take this product a few hours before or after them. Consult a health-care practitioner for use beyond 3 months.
Caution:

Contains no: Preservatives, artificial flavour or colour, sugar, animal products, dairy, or yeast.

Cautions and warnings: Consult a health-care practitioner prior to use if you are pregnant or breast-feeding; have diabetes or thyroid disorders; or are on medications for diabetes, high blood pressure, or seizures. Avoid taking if you are hormone-sensitive; have immune disorders; or are on immunosuppressive drugs or anticoagulants.

Contraindications: Do not use if you are taking health products that affect blood coagulation (e.g. blood thinners, clotting factor replacements, acetylsalicylic acid, ibuprofen, fish oils, vitamin E) as this may increase the risk of spontaneous bleeding.

Known adverse reactions: Do not use if you are allergic to plants of the Asteraceae/Compositae/Daisy family. Discontinue use and consult a health-care practitioner in case of sweating, paleness, chills, headache, dizziness, and/or confusion, as these may be symptoms of serious low blood sugar.

Store in a cool, dark, and dry place, away from sunlight. Do not use if seal is broken. Keep out of reach of children.
Ingredients:
Each vegetable capsule contains:
Bilberry (Vaccinium myrtillus), 25% anthocyanosides
80 mg

dl

‑alpha‑Lipoic acid
50 mg
Grape (Vinis vinifera) seed extract, 95% proanthocyanidins
50 mg
Lutein (from Tagetes erecta)
5.5 mg
Ginkgo biloba leaf, 24% flavonoid glycosides, 6% terpene lactones
25 mg
Multianthocyanidins 20% (multifruit extract)*
25 mg
Haematococcus pluvialis, 1.5% astaxanthin
13.33 mg
Tomato extract, 5% lycopene
10 mg
Marigold (Tagetes erecta) extract, 20 % zeaxanthin
10 mg
Vitamin C (ascorbic acid)
170 mg
Vitamin B1 (thiamine hydrochloride)
5 mg
Vitamin B3 (niacinamide)
75 mg
Vitamin B3 (inositol hexanicotinate, flush-free)
25 mg
Vitamin E (

d

‑alpha‑tocopheryl acetate)
20.1 mg AT (30 IU)
Vitamin B2 (riboflavin)
25 mg
Vitamin B2 (riboflavin-5′‑phosphate sodium)
5 mg
Vitamin B6 (pyridoxine hydrochloride)
5 mg
Vitamin B6 (pyridoxal-5′‑phosphate)
2 mg
Zinc (from zinc citrate)
5 mg
Copper (from copper gluconate)
500 mcg

l

‑Glutathione
25 mg
Selenium (from

l

‑selenomethionine)
50 mcg
* Made from a blend of fruit extracts from Vaccinium myrtillus (extract and fruit powder) and Vitis vinifera (skin and seed).
Other ingredients: Sodium alginate, acacia gum, pea starch, dicalcium phosphate, vegetable magnesium stearate, silicon dioxide, corn starch (non‑GMO), and maltodextrin (non‑GMO) in a non‑GMO vegetable capsule composed of vegetable carbohydrate gum and purified water.
Non-GMO