NewCo BroccoFusion Sulforaphane Organic Day Cream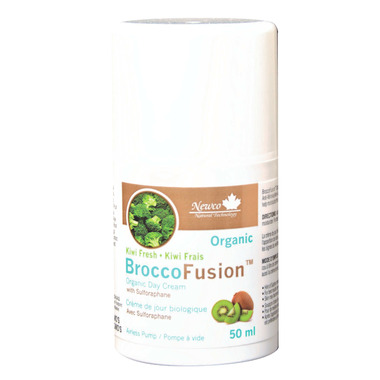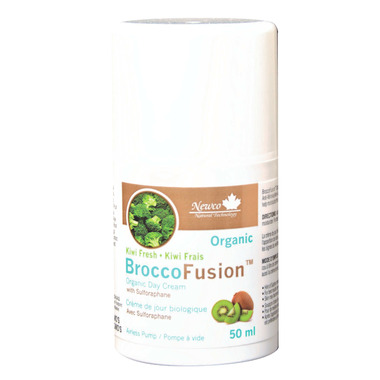 NewCo BroccoFusion Sulforaphane Organic Day Cream
Every day you are exposed to harsh conditions in the environment that affect the look, feel, and health of your skin. This synergistic blend of ingredients helps to improve the appearance and health of your skin. Our BroccoFusion Organic Day Cream with Sulforaphane, Rosehip Seed, Hemp, Coconut and Argan Oils leaves your skin silky smooth and soft to the finish.
Protects against drying effects of the sun; Helps combat fine lines and wrinkles; Improving the texture of the skin; Helps restore moisture and delivers active ingredients to the skin to keep it healthy and looking its best; Moisturizes the skin so the complexion looks revitalized; Soothes skin; Skin brightening/radiance; Relieves itching due to dry skin; Protects skin against the abuse of the elements; Quartz induced Solfeggio scale of health and well-being

Directions:
Apply to the entire face and neck area in the morning as your daily moisturizer. For best results, use with Newco BroccoFusion™ Organic Night Cream.
Ingredients:
Organic Prunus Cerasus (Cherry) Fruit Water, Candelilla/Jojoba/Rice Bran Polyglyceryl-3 Esters, Glyceryl Stearate, Cetearyl Alcohol, Sodium Stearoyl Lactylate, Organic Cocos Nucifera (Coconut) Oil, Organic Helianthus Annuus (Sunflower) Seed Oil, Organic Rosa Canina (Rosehip) Fruit Oil, Cetyl Alcohol (Plant Derived, Emulsifier & Thickener), Organic Argania Spinosa (Argan) Oil, Organic Cannabis Sativa (Hemp) Seed Oil, Organic Aloe Barbadensis (Aloe Vera) Leaf Extract, Organic Zingiber Officinale (Ginger) Root Extract, Organic Camellia Sinensis (Green Tea) Leaf Extract, Organic Ginkgo Biloba Leaf Extract, Organic Cymbopogon Schoenanthus (Lemongrass) Extract, Gluconolactone, Sodium Benzoate, Brassica Oleracea Italica (Broccoli) Seed Oil & Sulforaphane, Xanthan Gum, Parfum (Kiwi).
Caution:
Hint of Sulphur smell = Sulforaphane
For best results use with BroccoGen 10®
Skin may become slightly red after application, this is desirable.
BPA & BSA free, non GMO, organic, not tested on animals, gluten free