Nordora Biovitality Anti-Aging Rejuvenating Mask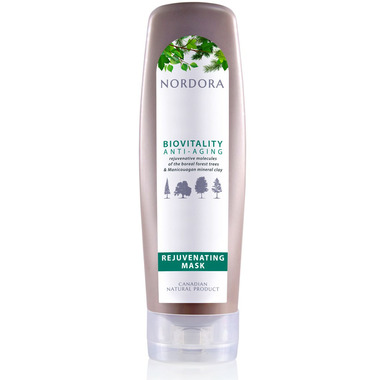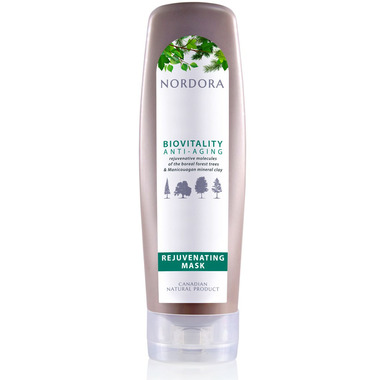 Nordora Biovitality Anti-Aging Rejuvenating Mask
Made from Manicouagan clay, one of the richest mineral clays on earth, Nordora's Biovitality Anti-Aging Rejuvenating Mask leaves the skin feeling purified, remineralized and revitalized.
In the great Canadian North, trees of the Boreal Forest have to face harsh winters, hot summers with long exposure to UV rays, and rainy and humid autumns. To survive, these trees have developed very specific and active molecules in their barks that allow them to protect themselves and thrive. Nordora has harnessed these active molecules and created the Boréaline® Expert extract.
A breakthrough in natural anti-aging, the rejuvenating Boréaline® Expert extract joins forces with the skin to slow the appearance of the aging process. Nordora Biovitality has 7 actions:
Firms Skin
Smoothes Wrinkles
Antioxidants (black spruce and red maple)
Deep moisturizing (black spruce, red maple, grey pine, and yellow birch)
Tightens pores and has a lifting effect (white spruce)
Relieves redness (black spruce)
Cleans and purifies the skin (white birch)
Ingredients
: Aloe barbadensis leaf juice, Aqua, Silica, Manicouagan Clay, Articum Lappa (Burdock ) Root Extract, Glycerin, Propanediol, Decyl Glucoside, Bentonite, Theobroma Cacao (cocoa) Powder, Helianthus Annuus (Sunflower) Seed Oil, Sodium Citrate, Salicylic Acid, Potassium Alum, Levulinic Acid, Xanthan gum, Picea mariana bark extract, Acer rubrum bark extract, Pinus banksiana bark extract, Betula alleghaniensis bark extract, Foeniculum vulgare (Fennel) oil
Organic, Vegan, Gluten Free, Non-GMO. No trees are cut down for Nordora skincare products. They use tree bark that is harvested at the end of timber processing.