North Coast Naturals Cold Pressed Pumpkin Protein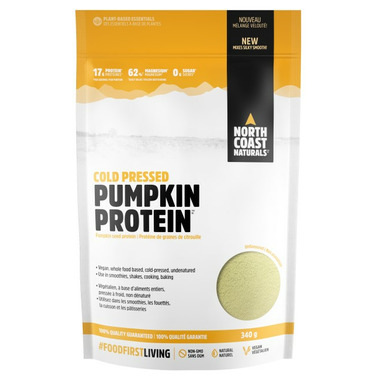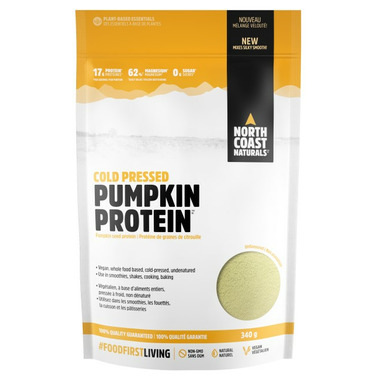 North Coast Naturals Cold Pressed Pumpkin Protein
North Coast Naturals Cold Pressed Pumpkin Protein is a whole food-based option for those looking for a highly digestible, gluten-free and low-allergenic vegan protein. It delivers all the essential and branched-chain amino acids, making it a complete protein. Mineral deficiencies are commonplace, and their pumpkin protein is naturally rich in three essential minerals (magnesium, zinc and iron) while also providing potassium.

Magnesium, in particular, is among the most beneficial minerals as it helps regulate over 300 processes in our bodies, including muscle and nerve function. Pumpkin protein also delivers a cleaner taste than many other vegan proteins—it works exceptionally well in smoothies and shakes. Pumpkin protein is a great alternative to hemp or rice proteins, which have been around for years.
Features:

100% pure pumpkin- nothing added
100% cold pressed, non-GMO
100% vegan, cleaner tasting
17 g of complete undenatured protein
Highly digestible & mixes silky smooth
Suggested use: Mix, shake or blend 1 serving with 250 ml of water, juice or your preferred beverage.
Ingredients: 100% pure, partially defatted pumpkin seed protein powder.


Proudly packaged in our GMP facility that also carefully handles ingredients from milk, soy, wheat. Formulated without animal products, yeast, gluten, sulfites, artificial preservatives, or synthetic colours, flavours or sweeteners. (GMP: Good Manufacturing Practices)
Packed by weight, not by volume. Do not use if bag is broken or open. Store in a cool, dark, dry place – refrigerate to extend freshness. Keep out of reach of children.