Nova Scotia Organics Healthy Joints Formula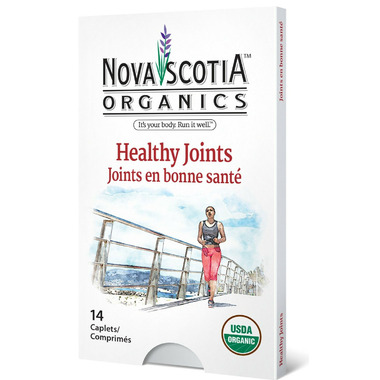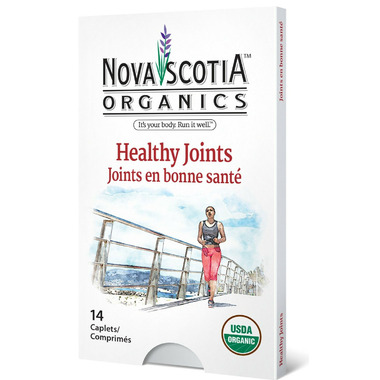 Nova Scotia Organics Healthy Joints Formula
The Nova Scotia Organics Healthy Joints formula provides gentle, plant based support for the management of aches and pains with California Poppy, Guggulu, and Devil's Claw. The pharmaceutical community has long been aware of the properties of Turmeric—a remarkable plant in the Ginger family more widely known as Curcumin—so a powdered form of this safe and gentle root has been included in the formula as well.

Features:
Dairy free
Gluten free
GMO free
Herb/Herbal
Magnesium Stearate free
No Fillers
Peanut free
Soy free
Synthetics free
USDA Certified Organic
Vegan
Vegetarian
How to Use (Adults):
Take 2 tablets, 2 times a day. Use for a minimum of 2-3 months to see beneficial effects.
Cautions and Warnings: Consult your health care practitioner prior to use if you have gallstones or a bile duct obstruction, stomach ulcers or excess stomach acid, are taking thyroid medication or have a thyroid disorder,taking estrogen therapy medications, taking anticoagulants/anti-platelet medication or have a coagulation disorder and/or are at risk for bleeding, taking beta blockers or if symptoms persist or worsen. Consumption with alcohol, other medications or natural health products with sedative and/or analgesic properties is not recommended. Discontinue use if gastrointestinal discomfort, headache, and/or skin rash appear. Consult a health care practitioner if you are taking calcium channel blockers (e.g. Diltiazem). Some people may experience drowsiness. Exercise caution if operating heavy machinery, driving a motor vehicle or involved in activities requiring mental alertness. Do not use if you are pregnant or breastfeeding or have hormone sensitive cancers/conditions. Keep out of reach of children. Store between 15 and 25 degrees celsius in a dry place. Do not use if packaging is damaged.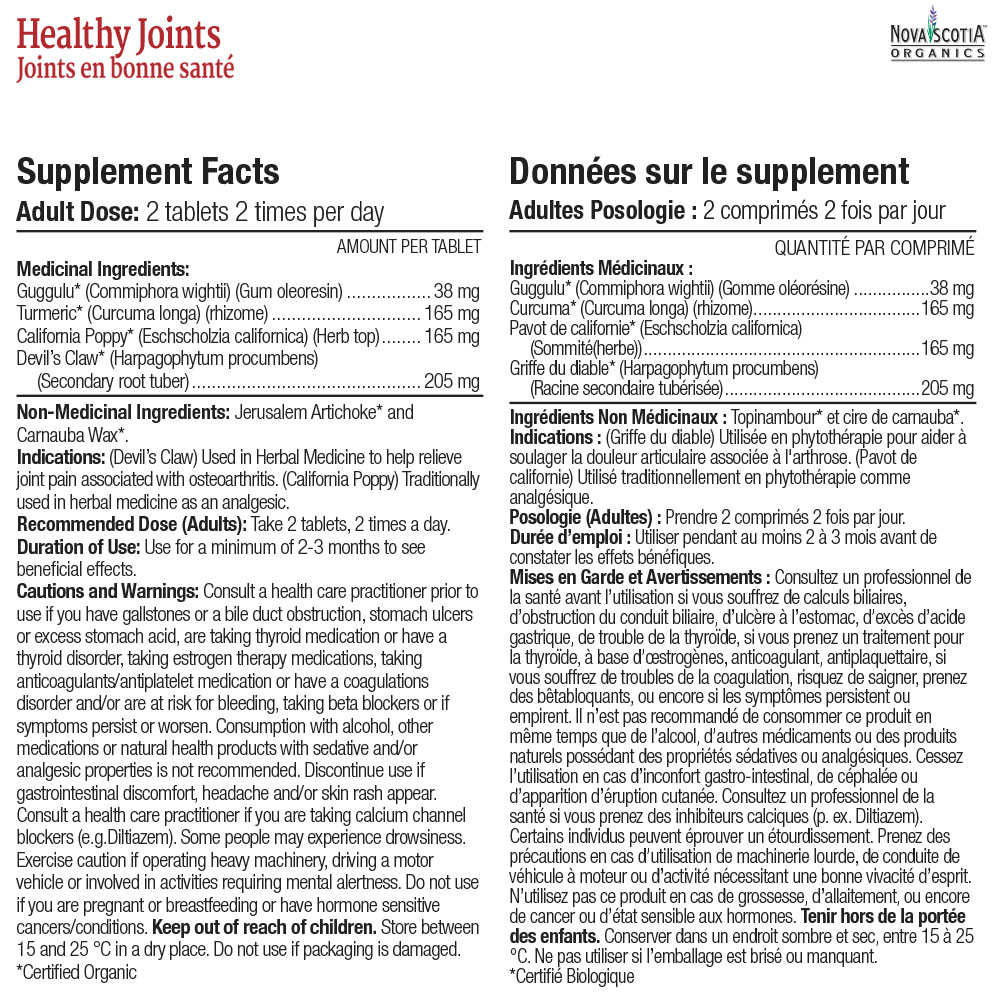 Medicinal Ingredients:
Guggulu (Commiphora wightii)(Gum oleoresin) - 38 mg
Turmeric (Curcuma longa)(rhizome) - 165 mg
California Poppy (Eschscholzia californica)(Herb top) - 165 mg
Devil's Claw (Harpagophytum procumbens)(Secondary root tuber) - 205 mg
Non-Medicinal Ingredients:
Jerusalem Artichoke and Carnauba Wax.