Nova Scotia Organics Kid's Multivitamins and Minerals
Nova Scotia Organics Kid's Multivitamins and Minerals
A robust, balanced, daily multivitamin and minerals formula specially formulated for Kids! A complete multivitamin that's got your child covered. Packed with 14 essential vitamins and minerals, including Vitamins A, B(1-3,5,6 & 12), C, D2, E, K, Biotin, Folate, and Zinc, our Chewable Kid's Multi, is a great complement to a healthy lifestyle. Kids Multi contains Pineapple, Blueberry, Orange Juice, and many organic plant sourced vitamins & minerals like our Vitamin D2 from Mushrooms!
Features:
Chewable!
Dairy free
Gluten free
GMO free
Magnesium Stearate free
No Fillers
Peanut free
Soy free
Synthetics free
USDA Certified Organic
Vegan
Vegetarian
Whole Food
How to Use:
(Children 4-8 years): Take 1 chewable tablet per day.
(Children 9-13): Take 1-1.5 chewable tablets per day.
(Adolescents 14-18 years): Take 2 chewable tablets per day.
Take a few hours before or after taking other medications or natural health products. Take with food.
Cautions and Warnings:
Consult your health care practitioner prior to use if you are taking blood thinners. Zinc supplementation can cause copper deficiency. Keep out of reach of children. Store between 15 and 25 degrees celsius in a dark dry place. Do not use if packaging is damaged.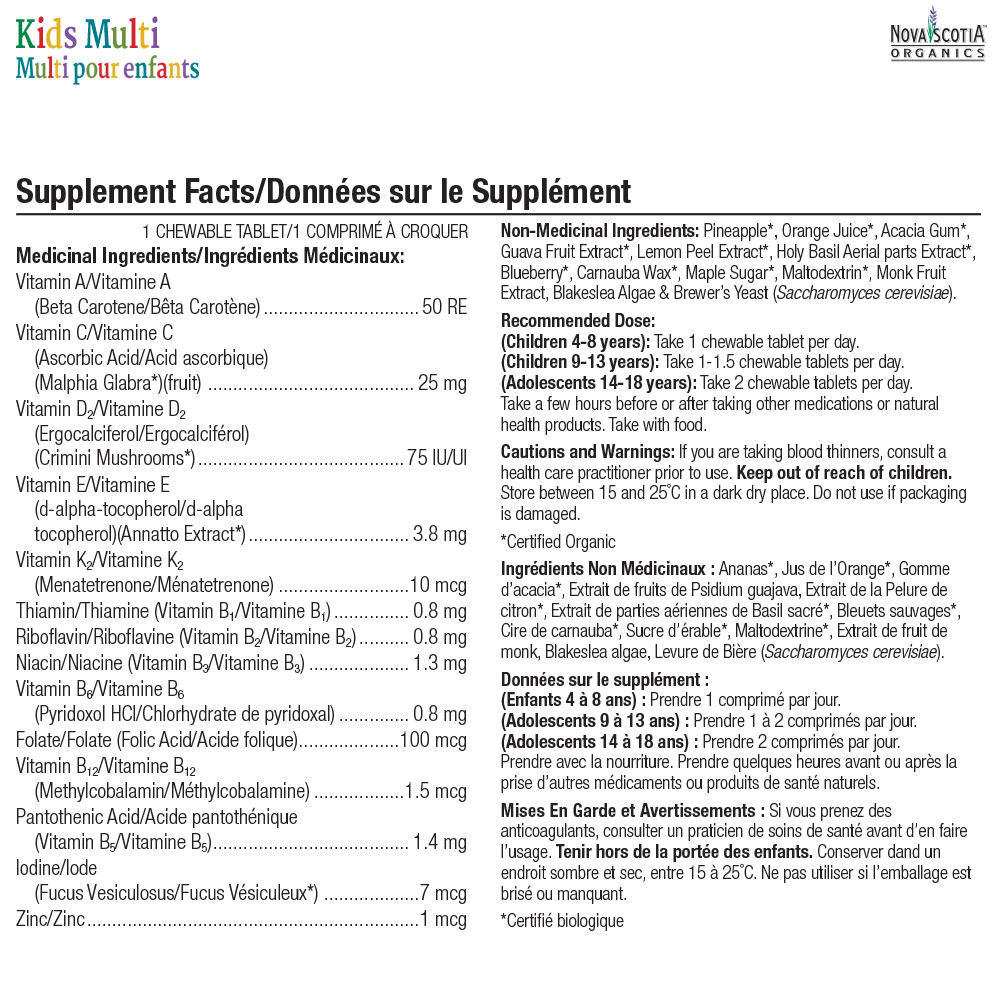 Medicinal Ingredients:
Vitamin A (Beta Carotene) - 50 RE
Vitamin C (Ascorbic Acid)(Malphia Glabra)(fruit)- 25 mg
Vitamin D2 (Ergocalciferol)(Crimini Mushrooms) - 75 IU
Vitamin E (alpha-tocopherol)(Annatto Extract) - 3.8 mg
Vitamin K2 (Menatetrenone) - 10 mcg
Thiamin (Vitamin B1) - 0.8 mg
Riboflavin (Vitamin B2) - 0.8 mg
Niacin (Vitamin B3) - 1.3 mg
Vitamin B6 (Pyridoxol HCl) - 0.8 mg
Folate (Folic Acid) - 100 mcg
Vitamin B12 (Methylcobalamin) - 1.5 mcg
Pantothenic Acid (Vitamin B5) - 1.4 mg
Iodine (Fucus Vesiculosus) - 7 mcg
Zinc - 1 mg
Non-Medicinal Ingredients:
Pineapple, Orange Juice, Acacia Gum, Guava Fruit Extract, Lemon Peel Extract, Holy Basil Aerial parts Extract, Blueberry, Carnauba Wax, Maple Sugar, Maltodextrin, Monk Fruit Extract, Blakeslea Algae and Brewer's Yeast (Saccharomyces cervisiae).