Nova Scotia Organics Nausea Relief Formula



The Nova Scotia Organics Nausea Relief formula contains the powerful nausea fighter ginger. Ginger has a long history of use in Asian, Indian, and Arabic herbal traditions. In China, for example, ginger has been used to help digestion and treat stomach upset, diarrhea, and nausea. Ginger has also been used to help treat arthritis, colic, diarrhea, and heart conditions. Traditional ayurvedic texts recommend ginger for therapeutic use for joint pain, motion or airsickness and clearing the microcirculatory channels to facilitate better absorption of nutrients and better elimination of wastes.
Ginger is clinically shown to help prevent nausea and vomiting associated with motion sickness and seasickness. In Herbal Medicine, it is also used to help relieve digestive upset/disturbances including lack of appetite, nausea, digestive spasms, indigestion and upset stomach.

Features:
Dairy free
Freeze Dried
Gluten free
GMO free
Magnesium Stearate free
No Fillers
Peanut free
Soy free
Synthetics free
USDA Certified Organic
Vegetarian
How to Use (Adults and adolescents ages 12+):
Take 1-2 tablets. Do not exceed 6 tablets per day. For the prevention of motion sickness take 2 tablets at least 30 minutes before departure.
Cautions and Warnings:
Consult a health care practitioner if symptoms persist or worsen. Keep out of reach of children, Store between 15 and 25 degrees celsius in a dry place. Do not use if packaging is damaged.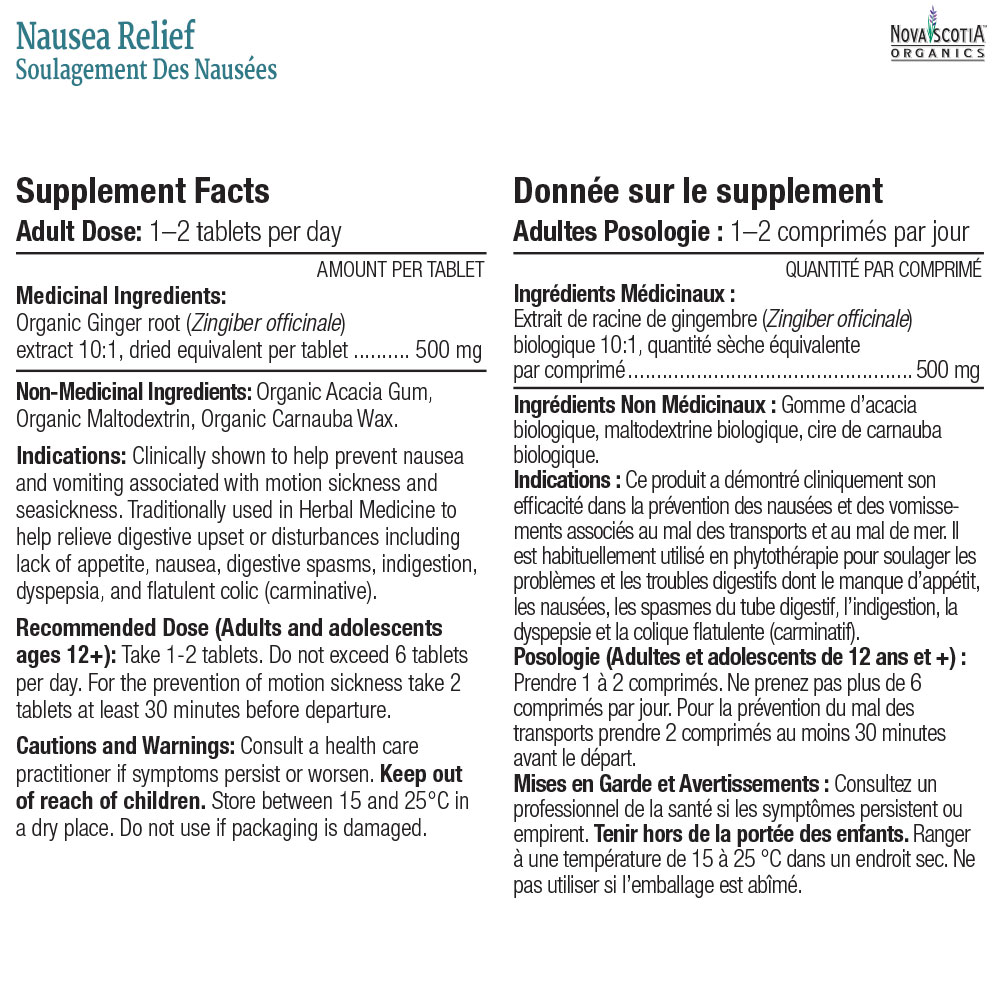 Medicinal Ingredients:
Organic Ginger root (Zingiber officinale) extract 10:1, dried equivalent per tablet - 500 mg
Non-Medicinal Ingredients:
Organic Acacia Gum, Organic Maltodextrin, Organic Carnauba Wax.