Nova Scotia Organics Women's Multivitamins and Minerals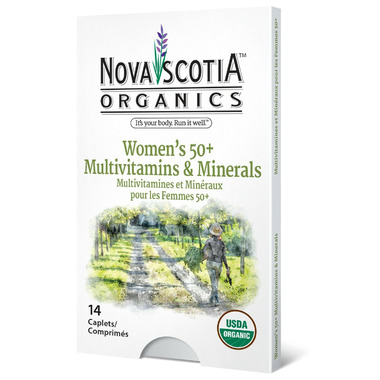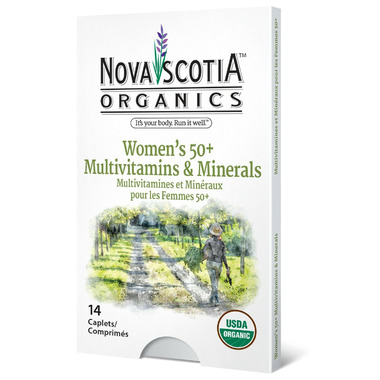 Nova Scotia Organics Women's Multivitamins and Minerals
A robust, balanced, daily Multivitamin and Minerals formula specially formulated for Women. A complete multivitamin that's got you and your body covered. Packed with 20 essential vitamins and minerals, including Vitamins A, B, C, D3, E, K, Biotin, Folate, Niacin and Zinc, the Nova Scotia Organics Women's Multivitamins & Minerals formula is a complete multivitamin for Women. To make it even better, all of these ingredients are plant sourced, with the exception of Calcium derived from chicken eggshell and Vitamin D3 from Sheep's Wool Lanolin. In other words, from substances your body recognizes easily and digests well.
Features:
Dairy free
Gluten free
GMO free
Magnesium Stearate free
No Fillers
Peanut free
Soy free
Synthetics free
USDA Certified Organic
Vegetarian
Whole Food
How to Use:
Take 2 caplets daily with food. Take a few hours before or after taking other medications.
Cautions and Warnings:
Consult your health care practitioner prior to use if you are taking blood thinners. Zinc supplementation can cause copper deficiency. Keep out of reach of children. Store between 15 and 25 degrees celsius in a dark dry place. Do not use if packaging is damaged.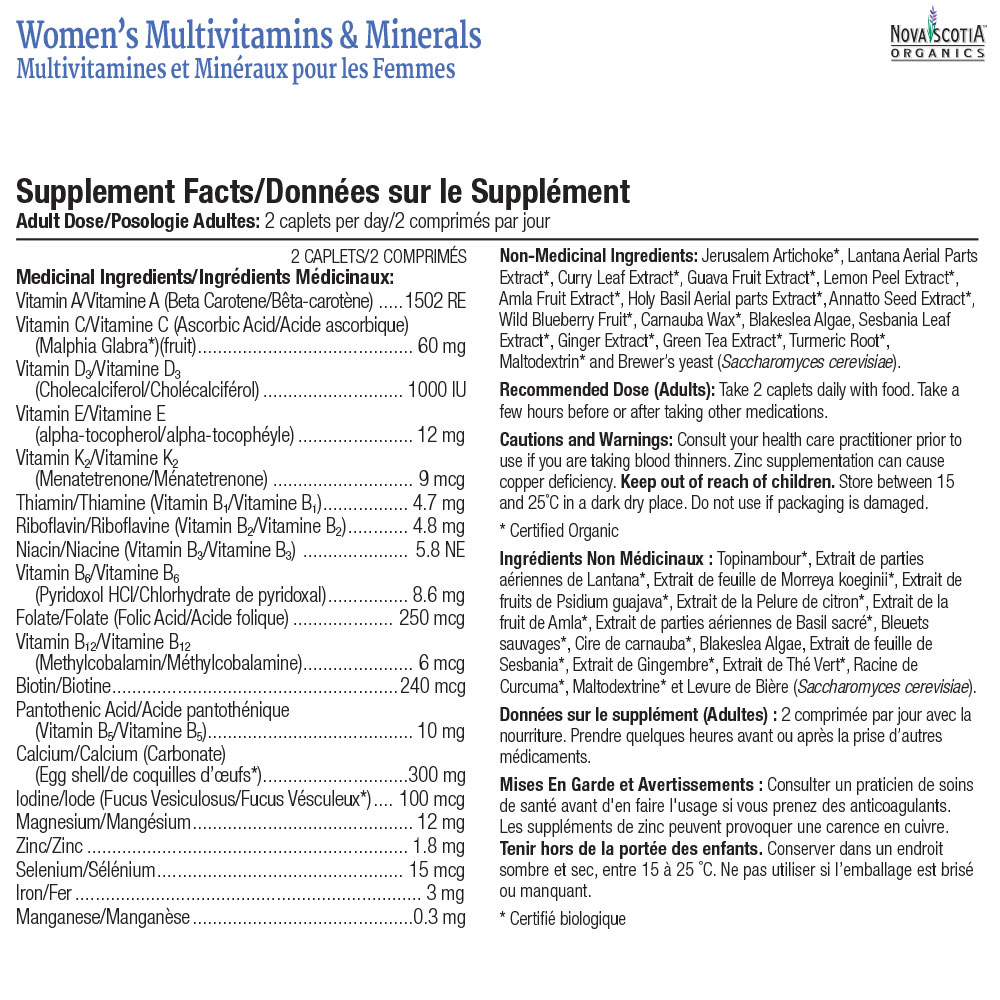 Medicinal Ingredients:
Vitamin A (Beta Carotene) - 1502 RE
Vitamin C (Ascorbic Acid)(Malphia Glabra)(fruit)- 60 mg
Vitamin D3 (Cholecalciferol) - 1000 IU
Vitamin E (alpha-tocopherol) - 12 mg
Vitamin K2 (Menatetrenone) - 9 mcg
Thiamin (Vitamin B1) - 4.7 mg
Riboflavin (Vitamin B2) - 4.8 mg
Niacin (Vitamin B3) - 5.8 NE
Vitamin B6 (Pyridoxol HCl) - 8.6 mg
Folate (Folic Acid) - 250 mcg
Vitamin B12 (Methylcobalamin) - 6 mcg
Biotin - 240 mcg
Pantothenic Acid (Vitamin B5) - 10 mg
Calcium (Egg shell) - 300 mg
Iodine (Fucus Vesiculosus) - 100 mcg
Magnesium - 12 mg
Zinc - 1.8 mg
Selenium - 15 mcg
Iron - 3 mg
Manganese - 0.3 mg
Manganese - 0.3 mg
Non-Medicinal Ingredients:
Jerusalem Artichoke, Lantana Aerial Parts Extract, Curry Leaf Extract, Guava Fruits Extract, Lemon Peel Extract, Amla Fruit Extract, Holy Basil Aerial parts Extract, Annatto Seed Extract, Wild Blueberry Fruit, Carnauba Wax, Blakeslea Algae, Sesbania Leaf Extract, Ginger Extract, Green Tea Extract, Turmeric Root, Maltodextrin and Brewer's yeast (Saccharomyces cervisiae).