NOW Better Stevia Balance Packets With Inulin & Chromium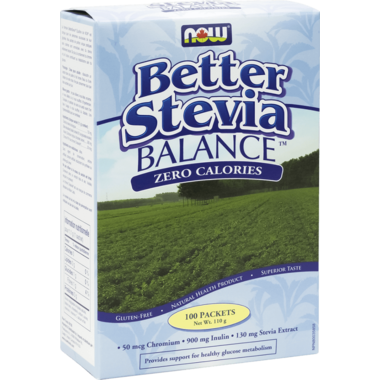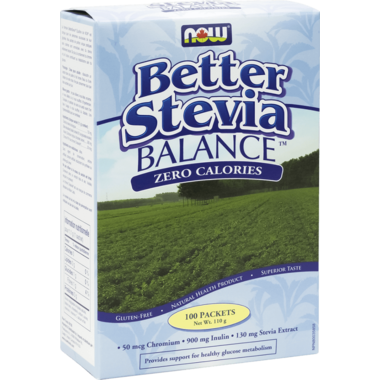 NOW Better Stevia Balance Packets With Inulin & Chromium
For those looking for a sugar alternative, and want to avoid aspartame, there is now an option that can satisfy your dietary needs without needing to compromise on flavour. NOW Foods Stevia Balance is formulated for those who are concerned about their blood sugar levels. These convenient, zero-calorie, single-serve packets are flavoured with natural-source stevia and contain chromium and inulin to provide support for healthy glucose metabolism.
Inulin is a fructooligosaccharide derived from chicory. As a prebiotic, it stimulates the growth of friendly intestinal flora to support good colon health. It has a low glycemic index making it suitable for persons on certain types of restricted diets.
Chromium is a trace mineral that is significantly reduced in the American diet due to the over processing of our foods. It is involved in a number of important bodily functions and is an effective synergist for Stevia and Inulin.
Features:
Contains Inulin & Chromium
Contains no preservatives, artificial flavours, artificial colours, synthetic sweeteners or bitter aftertaste

Natural Herb Extract
Calorie-Free
Saccharin-Free
Aspartame-Free
One hundred 1 g packets
Suggested Usage:
As a dietary supplement, take one packet as desired.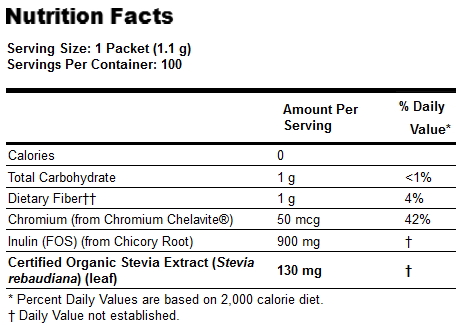 Other Ingredients:
Silica.

Contains No:
Salt, yeast, wheat, gluten, soy, milk, egg, shellfish, preservatives, artificial colours, artificial flavours or artificial sweeteners.