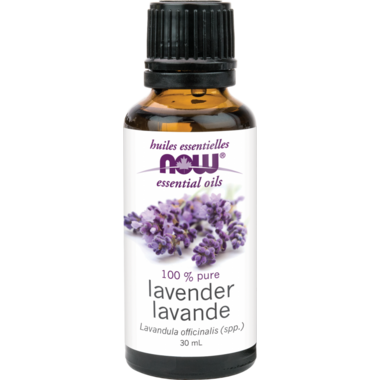 100% Pure
30 mL
NOW Essential Oils Lavender Oil
is rated out of
5
by
24
.
---
Description
NOW Essential Oils Lavender Oil is 100% pure and has a clean, light scent. Its texture makes it one of the most versatile oils. Lavender's soft, calming aroma has made it one of the most popular in the essential oil family. NOW Foods Lavender Oil is steam distilled from fresh flowering tops.

Directions: For aromatherapy use. For all other uses, carefully dilute with a carrier oil such as jojoba, grapeseed, olive, or almond oil prior to use. Please consult an essential oil book or other professional reference source for suggested dilution ratios.

Caution: Keep out of reach of children. Avoid contact with skin or eyes. If pregnant or lactating, consult your healthcare practitioner before using. Natural essential oils are highly concentrated and should be used with care.


Highlights

Features
100% pure Lavandula officinalis (spp.)
Aroma: Floral.
Attributes: Soothing, normalizing, balancing.
Extraction Method: Steam Distilled from fresh flowering tops.
Purity Tested/Quality Assured
Hexane free
Ingredients
Pure lavender oil (Lavandula officinalis (spp)).
Rated

4

out of

5
by
rose expert
from
Good Product
I use it for insect bite, works very well. I work in the garden very often, rather than using chemical products I prefer to use lavender oil.
Date published: 2020-08-31
Rated

5

out of

5
by
Genis
from
EXCELLENT!!!!!
I bought this to try with my dryer balls. It works GREAT. Love the smell. I decided to try it on strips of cloth in the closets and it works great. Just dab a few drops on a cloth and place it in closets and dresser drawers, under beds, and enjoy a fresher cleaner smelling room and clothing.
Date published: 2020-07-10
Rated

5

out of

5
by
Szy490
from
This lavender essential oil is truly amazing! I absolutely love how it makes my bedroom smell very calming. I highly recommended it to all.
Date published: 2021-03-08
Rated

5

out of

5
by
Angel
from
I can actually smell it!
I have tried several lavender essential oils but keep coming back to the Now brand. It smells like lavender and is super relaxing!
Date published: 2020-08-29
Rated

5

out of

5
by
Dora Speck
from
It's Lavender, what's Not to Love?
I love the smell of lavender! I use it in a hot bath, on my body after a shower or at night, and on my pillow.
Date published: 2020-08-11
Rated

5

out of

5
by
CinBin
from
Wow! The size of it!!
Ever since I did a 3 day detox, which involved bathing in Epsom salts and lavender oil, my Son, who has autism, decided this is his bath of choice! So I really appreciate the large size, as he likes to take several baths a day
Date published: 2020-05-07
Rated

5

out of

5
by
Tamara
from
Love lavender
I really wanted the lavender to diffuse since we are in quarantine/social distancing and I wanted something to keep the calm with my son and I. I also used it to add to his sensory bins that are used for quiet time.
Date published: 2020-04-16
Rated

5

out of

5
by
Anonymous
from
My go-to essential oil
I LOVE lavender and this is my go-to oil for relaxation (anxiety). I make it into a room mist and spray it on pillows and linens to help me fall asleep faster ( light sleeper)
Date published: 2021-09-26