NOW Foods B12 Instant Energy Packets
2,000 mg
75 count 1g packets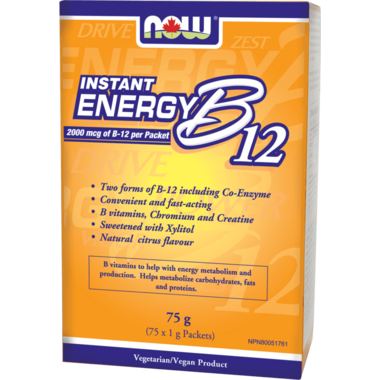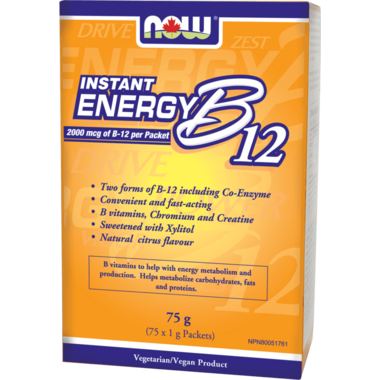 NOW Foods B12 Instant Energy Packets
2,000 mg
75 count 1g packets
NOW Foods B12 Instant Energy Packets avoids caffeine and stimulants while using supportive ingredients to provide an energy boost that will last. Many products in the energy category use caffeine or stimulant-based ingredients to provide an energy boost. This can result in a "jolt and crash" scenario leaving the user to feel less energized in the long run while depleting nutrient stores in the body, plus adding metabolic waste that may impair cell function.
Features:
An instant source of on-the-go energy, when you need it most
Convenient and fast-acting
Two forms of B-12 including Co-Enzyme form
B-Complex, Chromium, and Creatine
Caffiene and Sugar-free, and naturally sweetened with Xylitol
Egg free
Low sodium
Directions:
Adult Dosage: Take one packet daily. Mix with water, juice or your favourite beverage, or consume directly.
Ingredients:
Each packet (1 g) contains:
Thiamine (from Thiamine HCl) 1.5 mg
Riboflavin (Vit B-2 ) 1.7 mg
Vitamin B-3 (as Niacinamide) 20 mg
Vitamin B-6 (from Pyridoxine HCl) 2 mg
Folate (as Folic Acid) 400 mcg
Vitamin B-12 2000 mcg
Cyanocobalamin (1.4 mg)
Methylcobalamin (600 mcg - Co-enzyme form)
Vitamin B5 (from Calcium d-Pantothenate) 30 mg
Chromium (from Chromium Picolinate) 60 mcg
Creatine Monohydrate 250 mg
Non-Medicinal Ingredients:
Xylitol, Rice Maltodextrin, Citric Acid, Cellulose, Natural Citrus Flavours, Silica.
Caution:
Do not use if you are pregnant or breastfeeding. Consult a health care practitioner prior to use if you have a kidney disorder and/or diabetes. May result in weight gain. Take separately from products containing caffeine E.g. coffee, cola, etc.