No longer just a member of your spice rack, Cayenne has several health benefits to aid in anyone's daily routine. Cayenne pepper (Capsicum frutescens) has been used as a food and by traditional herbalists for thousands of years. The hot and spicy taste of cayenne pepper is primarily due to a component known as capsaicin. Modern scientific studies have indicated that consumption of Cayenne may help to support cardiovascular functions by improving peripheral blood flow, as well as improving digestive functions.
Features:
Vascular Health
Stimulates Healthy Digestion
Suggested Usage:
As a dietary supplement, take 1 capsule 2 to 4 times daily, preferably with meals.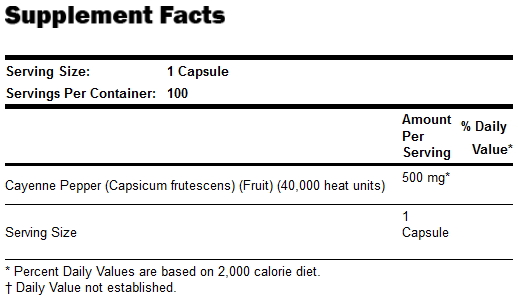 Other Ingredients:
Gelatin, water (capsule).
Contains No:
Sugar, salt, starch, yeast, wheat, gluten, corn, soy, milk, egg, shellfish or preservatives.
Warnings:
Cayenne Pepper is a HOT herb that may be more easily taken in capsules with meals. Consult a health care practitioner prior to use if you have stomach ulcers or inflammation or if you are pregnant or breastfeeding.