NOW Foods
NOW Foods Chewable GABA with Co-factors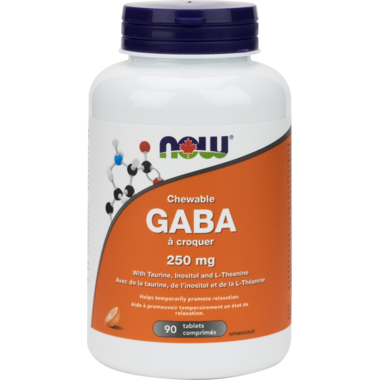 NOW Foods
NOW Foods Chewable GABA with Co-factors
90 Tablets
NOW Foods Chewable GABA with Co-factors
is rated out of
5
by
2
.
---
Description
Relaxation is key to any daily routine, but is not so easily achieved. Ensure you get the most out of your moments to relax. NOW Foods Chewable GABA with CO-factors works with the central nervous system to ease tension and promote relaxation.

GABA (Gamma-Aminobutyric Acid) is a non-protein amino acid that functions as a neurotransmitter in the human brain. GABA is known as the brain's own calming agent and is naturally produced in the body. By supporting a naturally balanced level of brain stimulation, GABA's presence within the central nervous system may help promote a relaxed state of mind and help release nervous tension. NOW uses only the naturally occurring L-form of GABA as found in food, as well as in the body. Delicious orange flavoured NOW® Chewable GABA combines this naturally occurring neurotransmitter with the relaxing amino acids Taurine and Theanine for their complementary functions.
Features
:
Helps temporarily promote relaxation
Chewable, Sweetened with Xylitol
With Taurine, Inositol and L-Theanine
Natural Orange Flavour
Vegetarian / Vegan
Each tablet contains:
GABA (Gamma Aminobutyric Acid) 250 mg
Taurine 50 mg
Inositol 40 mg
L-Theanine 10 mg
Non-Medicinal Ingredients:
Xylitol, Sorbitol, Cellulose, Hydroxypropylcellulose, Natural Orange Juice Powder, Stearic Acid (vegetable source), Magnesium Stearate (vegetable source), Citric Acid, Xanthan Gum, Beta-Carotene, Natural Vanilla Flavour, Natural Orange Flavour, Silica, Ascorbyl Palmitate, Natural Lemon Flavour.
Adult Dosage
: Take 2 tablets daily between meals or on an empty stomach. Consult a health care practitioner for use beyond 3 weeks.
Caution
: Consult a health care practitioner prior to use if you are pregnant or breastfeeding, or have epilepsy. Consult a health care practitioner if symptoms persist or worsen. Consumption with alcohol, other medications or natural health products with sedative properties is not recommended. Some people may experience drowsiness. Exercise caution if operating heavy machinery, driving a motor vehicle or involved in activities requiring mental alertness.
Highlights

Shipping & Returns
Rated

5

out of

5
by
Michelle
from
Bought this product for a friend whose mind is always racing and was having problems calming down their thought life ... in the day time plus at bedtime ! :( Have to say that this person has tried many other products (natural) before this with SOME results but I am happy to report that this has been the most effective so far. The rating they gave for this was 9/10. Said this made them feels calmer overall and take the edge off which made then more "able" to control their reactions to people / issues etc .... Same triggers in the past now affect this person 75 % less !!! Definitely worth a try for people out there who want a healthy alternative to Rx drugs who suffer from anxiety, possible adhd like symptoms, excessive stress, racing mind - thought life etc
Date published: 2018-02-08
Rated

5

out of

5
by
Lee
from
Wow! A friend told me about GABA to control anxiety and be calm and I finally tried it. These taste delicious like a creamsicle to start, also I feel so much more relaxed and level headed almost immediately after taking them. There was even a day when I wad almost vibrating with anxiety and I took two in ten afternoon and was calm and soothed within ten minutes from them. I definitely suggest these if you struggle with anxiety and worrying and want some relief in a natural way.
Date published: 2019-04-13