NOW Foods Double Strength Hyaluronic Acid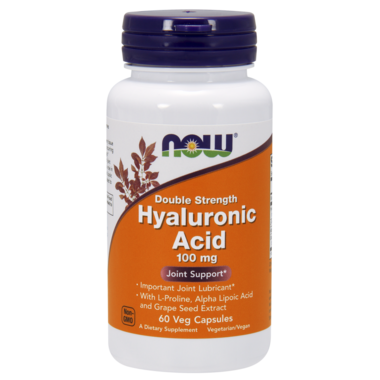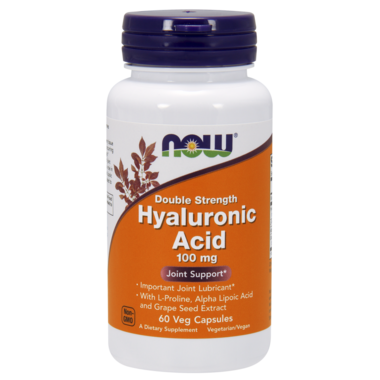 NOW Foods Double Strength Hyaluronic Acid
Hyaluronic Acid is a compound present in every tissue of the body, with the highest concentrations occurring in connective tissues such as skin and cartilage. Hyaluronic Acid is an important constituent of joint fluid where it serves as a lubricant and plays a role in resisting compressive forces.
Features:
Joint Support
Double Strength - 100 mg
Important Joint Lubricant
Structural Component of Skin
With Antioxidants
Vegetarian/Vegan Formula
Suggested Use:
Adult Dosage: Take 1 capsule 2 times daily, preferably with meals. Consult a health care practitioner for use beyond 3 months.
Medicinal Ingredients (each capsule contains):
Hyaluronic Acid (from Streptococcus equi) ... 100 mg
L-Proline (from Zea mays) ... 100 mg
Alpha Lipoic Acid (synthesized) ... 50 mg
Grape Seed Extract (Vitis vinifera) ... 25 mg
(Standardized to contain min. 90% Total Polyphenols)
Other Ingredients:
Veg capsule (hypromellose, water), white rice flour, magnesium stearate (vegetable source) and silica.
Mara:
more than a year ago
I have done a review before. I still continue to use this product. It has greatly improved the bone bruise injury on my knee. I take it every other day as its expensive. Since I don't take it every day, I am still surprised at how much it has helped. Actually all my joints feel better. I have been taking it for a year now.
Page
1