NOW Foods
NOW Foods Grape Seed Extract 100 mg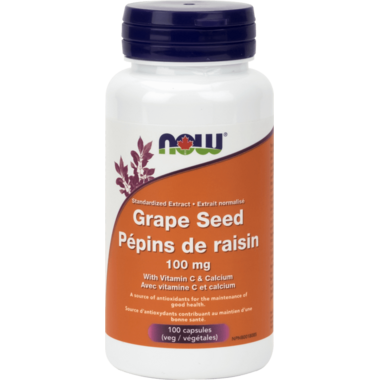 NOW Foods
NOW Foods Grape Seed Extract 100 mg
Description
Protect what is important. Considered a booster not only for your cardiovascular system but your immune system as well, Grape Seed Extract provides your body with the nutrients it needs to stay healthy and fight off sickness.

NOW® Grape Seed Extract is a highly concentrated natural extract containing a minimum of 90% Polyphenols, including OPC's (Oligomeric Proanthocyanidins), the beneficial antioxidant compounds found in Grape Seeds. Grape Seed Extract and OPC's have been the subject of numerous scientific studies demonstrating their efficacy in the support of cardiovascular health and immune system balance.

A growing body of research indicates that Grape Seed OPCs may help to support the health of tissues by supporting a robust response to oxidative and metabolic stress. In addition, non-clinical studies have shown that Grape Seed Extract may protect healthy brain and nerve tissues.
Highlights

Shipping & Returns