NOW Foods Liquid Multi Gels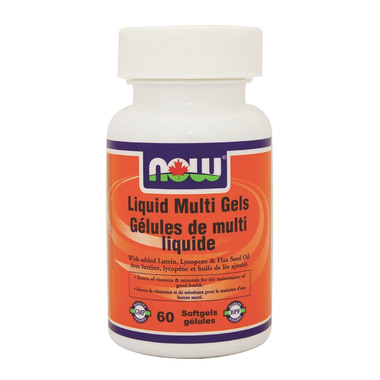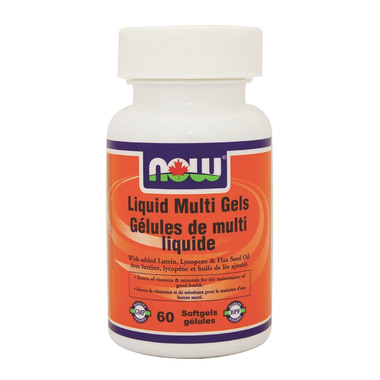 NOW Foods Liquid Multi Gels
When choosing a quality multiple, there are many elements to consider including potency, profile balance and integrity, core ingredients, safety and synergistic potential. As one of the Natural Product Industry's foremost leaders in quality, science-based multiples, NOW Liquid Multi Gels is a great option.
Features:
Multi Vitamin & Mineral
High Potency - Fast Absorption
Contains Natural Lutein & Lycopene
Rich in Flax Seed Oil
A Dietary Supplement
Medicinal Ingredients:
Vitamin A [from 40% Retinyl Palmitate & 60% Beta-Carotene (as pro-Vitamin A 3.6 mg)] 10,000 IU
Vitamin C (as Ascorbic Acid) 300 mg
Vitamin D (as Cholecalciferol) 400 IU
Vitamin E (as d-alpha Tocopherol) 400 IU
Thiamine (from Thiamine HCl) (Vitamin B-1) 50 mg
Riboflavin (Vitamin B-2) 50 mg
Niacin (as Niacinamide) (Vitamin B-3) 50 mg
Vitamin B-6 (from Pyridoxine HCl) 50 mg
Folic Acid 800 mcg
Vitamin B-12 (as Cyanocobalamin) 100 mcg
Biotin 300 mcg
Pantothenic Acid (from Calcium d-Pantothenate) 50 mg
Calcium (from Calcium Carbonate, Calcium Citrate and Calcium AAC**) 100 mg
Iron (from Ferrochel® Bisglycinate AAC**) 9 mg
Iodine (from Potassium Iodide) 150 mcg
Magnesium (from Magnesium Oxide and Magnesium Citrate) 100 mg
Zinc (from Amino Acid Chelate) 15 mg
Selenium (from L-Selenomethionine) 70 mcg
Copper (from Amino Acid Chelate) 1 mg
Manganese (from Amino Acid Chelate) 2 mg
Chromium (from Amino Acid Chelate) 120 mcg
Molybdenum (from Sodium Molybdate) 25 mcg
Potassium (from Potassium Chloride) 25 mg
Organic Flaxseed Oil (Linum usitatissimum) 800 mg
Alpha Lipoic Acid 50 mg
PABA 50 mg
Inositol 25 mg
Boron 500 mcg
Lutein (from Marigold Extract) 250 mcg
Lycopene (from Natural Tomato Extract) 250 mcg
Vanadium (from Vanadyl Sulfate) 25 mcg
Other Ingredients: Softgel Capsule (gelatin, glycerin, water, carob), Soy Lecithin, Beeswax and Natural Vanilla Extract.

Contains no: sugar, salt, yeast, wheat, gluten, milk, egg, shellfish or preservatives.