Wild Berry Flavour
473 mL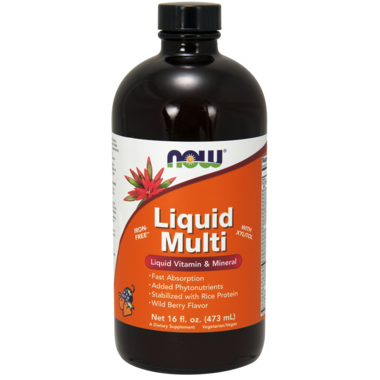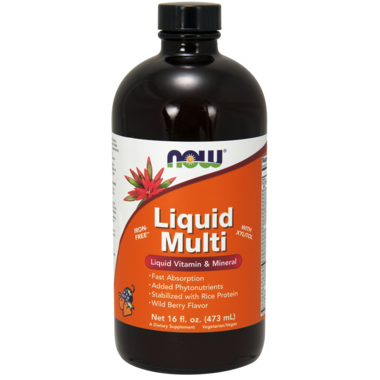 NOW Foods Liquid Multi
Wild Berry Flavour
473 mL
NOW Foods Liquid Multi is a multi-vitamin and mineral supplement. This unique formula utilizes brown rice protein as a stabilizing agent for maximum bioavailability of the vitamins, minerals and phytonutrients.
Wild Berry Concentrate consists of natural chokeberry, elderberry, black currant and apple fruit concentrates.
Features:
High Potency - Fast Absorption
Added Phytonutrients
Stabilized with Rice Protein
Wild Berry Flavor
Iron-Free
With Xylitol
Directions:
Shake well before use. Adult Dosage: Take 1 tablespoon (15ml), once daily with a meal. Take a few hours before or after taking other medications. Refrigerate after opening to preserve flavour.
Ingredients (each tbsp (15ml) contains):
Vitamin A 907mcg RAE (3000IU); Beta-carotene 300mcg RAE (2000IU); Vitamin C 250mg; Vitamin D 10mcg (400IU); Vitamin E 67mg AT (100IU); Vitamin B1 10mg; Vitamin B2 10mg; Vitamin B3 25mg; Vitamin B6 10mg; Folate 400mcg; Vitamin B12 100mcg; Biotin 100mcg; Pantothenic Acid 25mg; Calcium 65mg; Iodine 75mcg; Magnesium 20mg; Potassium 25mg; Manganese (HVP chelate*) 2mg; ZInc (HVP chelate*) 3mg; Chromium 10mcg; Selenium 15mcg; Choline 25mg; Lutein 100mcg; lycopene 100mcg; Inositol 25mg. *HVP: Hydrolyzed vegetable protein.
Non-Medicinal Ingredients:
Water, xylitol, glycerin, natural flavours (Vitaberry Hi-ORAC fruit blend), citric acid, malic acid, lecithin, xanthan gum, brown rice protein, potassium sorbate.