NOW Foods Neptune Krill Oil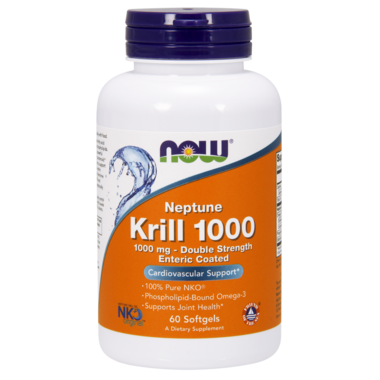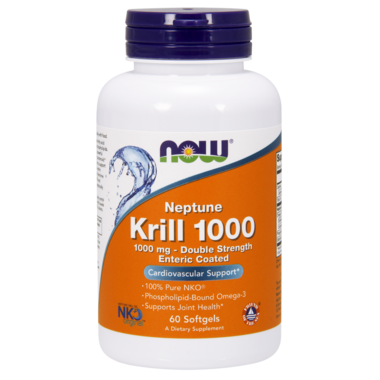 NOW Foods Neptune Krill Oil
Neptune Krill Oil (NKO) is known for its unique fatty acid (FA) profile, as well as for its rich antioxidant content. NKOs balanced fatty acid content includes not only EPA and DHA, the crucial Omega-3 FA's, but Omega-9 FA's and phospholipids, as well. NKO is a rich source of Astaxanthin, a powerful immune-supporting antioxidant. Clinical studies have shown that NKO can support joint comfort, healthy blood lipid levels, and may reduce symptoms of pre-menstrual syndrome. This 1,000 mg Krill Oil product is an enteric coated, odor controlled softgel to make it easier to tolerate for those who may experience nausea or reflux from fish oils.

Suggested Usage: As a dietary supplement, take 1 softgel daily with breakfast. Consider taking this product in combination with NOW CoQ10, Tru-E BioComplex and Phosphatidyl Serine.
Nutritional Info:

Calories 10g
Calories from Fat 10g
Total Fat 1 g
Neptune Krill Oil (NKO®) 1 g (1,000 mg)
Omega-3 Fatty Acids 230 mg
Eicosapentaenoic Acid (EPA) 120 mg
Docosahexaenoic Acid (DHA) 70 mg
Phospholipids 390 mg
Esterified Astaxanthin 750 mcg

Other Ingredients:
Softgel Capsule (gelatin, glycerin, enteric coating, water) and Glycerin. Contains shellfish (krill). Not manufactured with yeast, wheat, gluten, soy, milk, egg or fish ingredients.

Contains no: sugar, salt, starch, yeast, wheat, gluten, corn, soy, milk, egg or preservatives.

Warning: Persons with a seafood allergy, coagulopathy, or those taking anti-coagulant or other medications should consult a physician before taking this product.