NOW Foods Squishy Fishies Omega-3 for Kids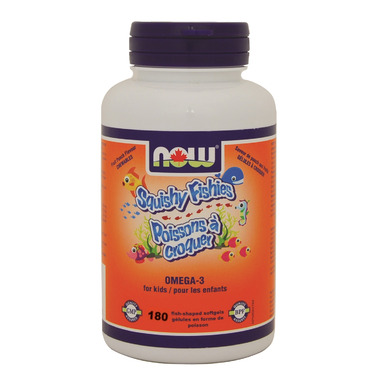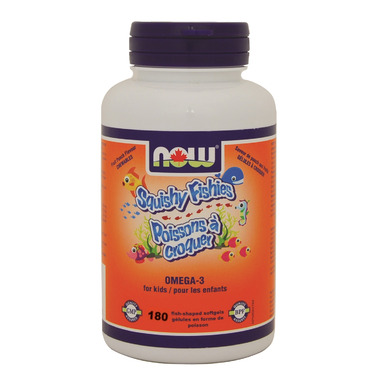 NOW Foods Squishy Fishies Omega-3 for Kids
Omega-3 fatty acids help support the development of the brain, eyes and nerves in children 12 yrs and younger. It is widely recognized that Canadian children are lacking adequate levels of Omega-3 fatty acids. NOW® offers this unique fish oil supplement with natural fruit flavour and a fun fish shape that kid's are sure to love.

NOW® utilizes a unique and patented encapsulation process that incorporates natural fruit flavours, xylitol (a natural sweetener) and cellulose into this, fish-shaped capsule shell to make a great tasting and smelling nutritional supplement that is easy to chew and swallow. Utilizing only cold-extracted and purified BioPureTM tuna oil in the natural tryiglyceride form, offering enhanced absorption. With a naturally high DHA content and extensive quality and purity testing, this product is sure to be a favourite among parents as well.
Recommended as a daily supplement for children or those that have
difficulty swallowing capsules.
Features:
Helps support the development of the brain, eyes and nerves in children 12 years and younger
Helps support cognitive health/brain function
Fun fish-shape softgels that kids are sure to love
Natural Fruit Punch Flavour Chewables
Sweetened with tooth-friendly sweetener Xylitol
Ingredients
(each softgel contains):
Fish Oil (from BioPureDHA™) (Scrombroidae spp. - Whole Tuna Body Oil) ... 550 mg
Docosahexaenoic Acid (DHA)...122 mg
Eicosapentaenoic Acid (EPA)...30 mg
Non-Medicinal Ingredients:
Softgel (gelatin, glycerin, water), Natural Fruit
Flavour, Xylitol, Cellulose and Tocopherols.