NOW Foods Squishy Fishies Omega-3 for Kids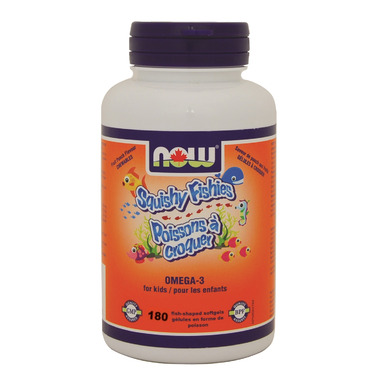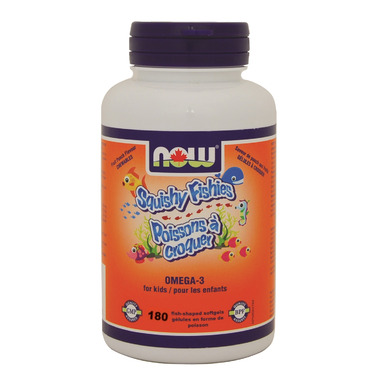 NOW Foods Squishy Fishies Omega-3 for Kids
Helps support the development of the brain, eyes and nerves in children 18 yrs and younger. Helps support cognitive health/brain function.
NOW offers this unique fish oil supplement with natural fruit flavour and a fun fish shape that kid's are sure to love. With a naturally high DHA content and our extensive quality and purity testing, this product is sure to be a favourite among parents as well. It is widely recognized that Canadian children are lacking adequate levels of Omega-3 fatty acids.
NOW utilizes a unique and patented encapsulation process that incorporates natural fruit flavours, xylitol (a natural sweetener) and cellulose into this, fish-shaped capsule shell to make a great tasting and smelling nutritional supplement that is easy to chew and swallow.
Recommended as a daily supplement for children or those that have
difficulty swallowing capsules.
Ingredients
(each softgel contains):
Fish Oil (from BioPureDHA™) (Scrombroidae spp. - Whole Tuna Body Oil) ... 550 mg
Docosahexaenoic Acid (DHA)...122 mg
Eicosapentaenoic Acid (EPA)...30 mg
Non-Medicinal Ingredients:
Softgel (gelatin, glycerin, water), Natural Fruit
Flavour, Xylitol, Cellulose and Tocopherols.