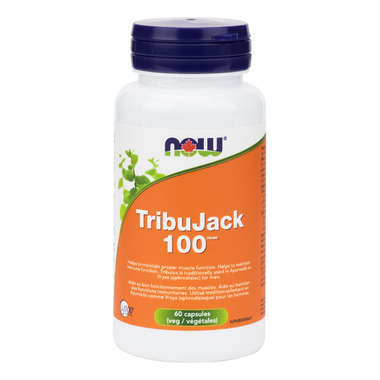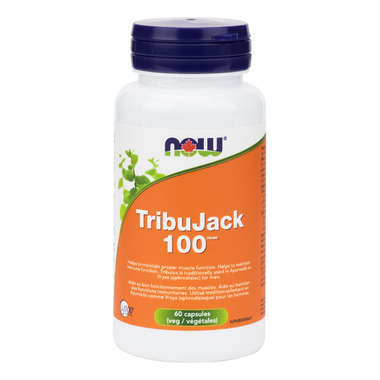 NOW Foods TribuJack 100 contains a potent standardized extract of Eurycoma longifolia, commonly known as Tongkat Ali or Long Jack. LJ100 contains bioactive Eurypeptides, the active constituents of Tongkat Ali. Clinical and non-clinical studies have shown that Tongkat Ali extracts support male reproductive function and healthy testosterone levels. Tribulus has been included for its virility supporting effects as shown in scientific studies. NOW Foods TribuJack 100 also contains ZMA, a synergistic combination of zinc and magnesium for the support of healthy immune, reproductive and neuromuscular function. This combination of ingredients in NOW Foods TribuJack 100 provides enhanced energy levels without the anxiety or insomnia that accompanies other energy supplements, as well as overall support for men's health.
Features:
Male Performance Formula
Increases Virility
Supports Healthy Testosterone
A Dietary Supplement
Vegetarian Formula

Other Ingredients: Cellulose (capsule), Cellulose, Stearic Acid (vegetable source) and Silica.

Contains no: sugar, salt, yeast, wheat, gluten, soy, milk, egg, shellfish or preservatives. Vegetarian/Vegan Product.
Contains:
Vitamin B-6 (from Pyridoxine HCl) ... 3.5 mg

Magnesium (from Maganesium Aspartate) ... 150 mg

Zinc (from Zinc L-Monomethionine and Zinc Aspartate) ... 10 mg

ZMA (Patent Pending complex of Zinc L-Monomethionine, Magnesium/Zinc

Aspartate, and Pyridoxine HCl) ... 808 mg

Eleuthero (Eleutherococcus senticosus) (Root) ... 300 mg

Tribulus terrestris Extract (Fruit) (min. 20% Protodioscin) ... 250 mg

LJ100 Tongkat Ali (Eurycoma longifolia Extract) (Root) (18 - 28%

Eurypeptides) ... 50 mg