NOW Foods Vitamin B-50 Complex with C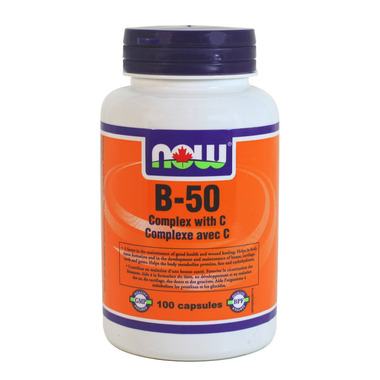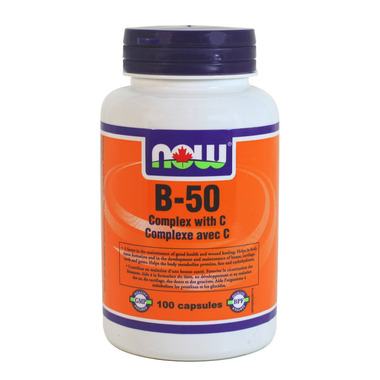 NOW Foods Vitamin B-50 Complex with C
Get two essential vitamins in one with NOW Foods Vitamin B-50 Complex with Vitamin C. Water-soluble B vitamins and Vitamin C are not stored in the body and must be replenished daily. This multiple B-vitamin with Vitmain C complex product and is designed to provide consumers with the required daily intake of the key nutrients to support the body's needed energy requirements, support tissue building, and recovery. Formula provides 50 mg of the majority of the B-Complex vitamins, plus added potencies of key nutrinets required during times of added stress.
Features:

Maintains Good Health

Helps in tissue formation and maintains bones, cartilage, teeth, and gums

Helps metabolize proteins, fats, carbohydrates

B complex with Vitamin C

Higher potency of B12, Vitamin C, and Pantothenic Acid
Medicinal Ingredients:
Vitamin C (as Ascorbic Acid) ... 250 mg

Thiamine (from Thiamine HCl) (Vitamin B-1) ... 50 mg

Riboflavin (Vitamin B-2) ... 50 mg

Niacin (as Niacinamide) (Vitamin B-3) ... 50 mg

Vitamin B-6 (as Pyridoxine HCl) ... 50 mg

Vitamin B-12 (as Cyanocobalamin) ... 100 mcg

Biotin ... 50 mcg
Folic Acid ... 400 mcg

Pantothenic Acid (from Calcium d-Pantothenate) ... 100 mg

Choline (Bitartrate) ... 50 mg

Inositol ... 50 mg
PABA ... 50 mg

Other Ingredients: Gelatin (capsule), Magnesium Stearate (vegetable source) and Silica.

Contains no: sugar, salt, yeast, wheat, gluten, soy, milk, egg, shellfish or preservatives.