Nuvocare
NutraCentials Blueberry Pterostilbene Nx with TeroYouth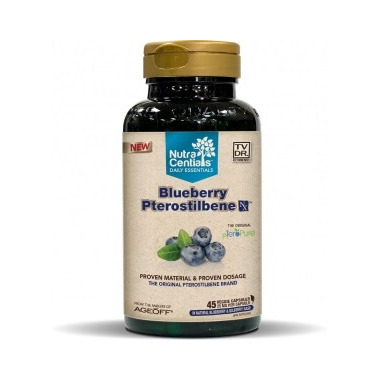 Nuvocare
NutraCentials Blueberry Pterostilbene Nx with TeroYouth
Description
NutraCentials Daily Essentials Blueberry Pterostilbene NX has pTeroPure, which is derived from blueberries and is known as 'THE ORIGINAL P-TEROSTILBENE'. Pronounced tero-STILL-bean, this powerful, multi-benefit antioxidant lasts longer in the body and has superior cellular up-take compared to other antioxidants. Compared to reservatrol, Pterostilbene is 90% better absorbed, has a 7 times longer half-life and has up to 4 times greater cellular uptake.
In a published, placebo-controlled clinical trial, 80 human subjects taking pTeroPure had reductions in blood pressure when suffering high blood pressure. In another study, subjects with memory decline who took Pterostilbene had improvements in memory and cognitive function.
To get a clinically proven amount of Pterostilbene you would need to consume more than 500 cartons of blueberries. pTeroPure now makes it possible to get an effective daily dosage!
NutraCentials Daily Essentials Blueberry Pterostilbene NX with pTeroPure promotes daily health via 3 key benefits:
Promotes hearth health by maintaining healthy blood pressure levels
Improves memory, cognitive function and anxiety reduction
Helps decrease cellular aging through its ability to activate surtuin
Vegetarian Capsules

Recommended Use & Purpose:
Provides antioxidants for the maintenance of good health.
Recommended Dosage & Directions: Take 1-2 capsules twice daily.
Ingredients: pTeroPure 99% trans- Pterostibene 25mg , Bilberry Fruit 360mg, Blueberry Fruit 65mg
Non medicinal Ingredients: K-caps Vegetarian Capsule, silica

Warning/Risk Information:
Consult a healthcare practitioner prior to use if you are pregnant or breastfeeding. Keep out of reach of children. Store at room temperature.
Highlights

Shipping & Returns