Nutraphase Clean Greens & Berries is a greens and phytoberry blend that provides your body with the fuel it needs to maintain an increased level of general health and wellness. It is a convenient way to reap the benefits of both a full serving of greens and phytoberries, providing you with antioxidants, and healthy cleansing and digestion upkeep which is crucial to performance and recovery.
Nutraphase Clean Greens & Berries is free from any artificial colours, flavours, and sweeteners and is also Gluten Free, which makes it a quintessential supplement for anyone looking to become better and healthier in the cleanest way possible.
Directions: Mix 1 serving (1 scoop) in 200 ml of cold water. For optimal results mix 2 servings (2 scoops) in 400 ml of cold water.

Ingredients: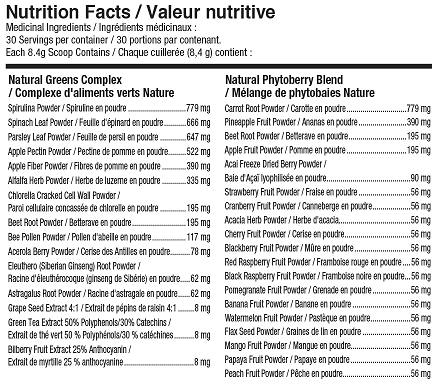 Non Medicinal Ingredients: Natural Flavour, Citric Acid, Organic Evaporated Cane Juice, Stevia Leaf Extract, Silicone Dioxide, Malic Acid.
Cautions: Store in a cool dry place. Do not use if you are pregnant or nursing. This product is not intended for use by persons under 18 years of age. Due to this product containing Bee Pollen, it may cause an allergic reaction in some people. Consult a physician before using this product if you are suffering from any medical condition, or you are taking any over-the-counter or prescription medication, including blood thinners. Use only as directed. KEEP AWAY FROM CHILDREN.