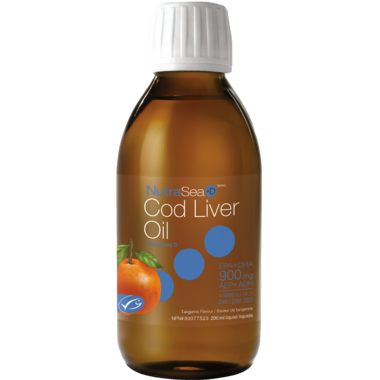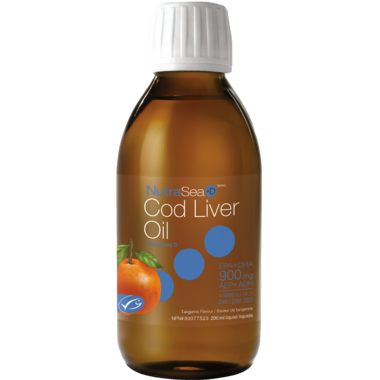 Introducing NutraSea+D Cod Liver Oil, delicious omega-3 plus vitamin D, sourced from cod caught deep in the nutrient-rich Northeast Arctic Ocean. Each teaspoon contains 900mg of EPA+DHA and 1000 IU of Vitamin D. NutraSea Cod Liver Oil is certified sustainable by the Marine Stewardship Council (MSC).
NutraSea is beneficial for the maintenance of good health, and in support of cardiovascular health and brain function. It is also beneficial in the development of the brain, eyes and nerves in children and adolescents.

Features:
Formulated for overall health and well-being
900 mg of EPA+DHA per serving
Great tasting supplement
Directions:
Adults take 1 tsp. daily. Adolescents 9–18 years take ½ tsp. daily. Children 4–9 years take ¼ tsp. daily.
Medicinal Ingredients:
Code Liver Oil, Vitamin D3, EPA + DHA

Ingredients:
sunflower oil, natural flavour, tocopherols (derived from non-GMO soy), green tea extract (mono- and diglycerides of fatty acids, palm oil, ascorbyl palmitate), medium chain triglycerides, monk fruit extract.