NutriStart Bone Building Mineral Mix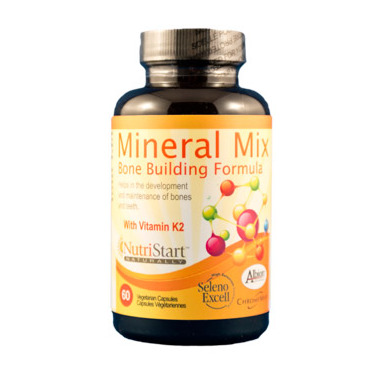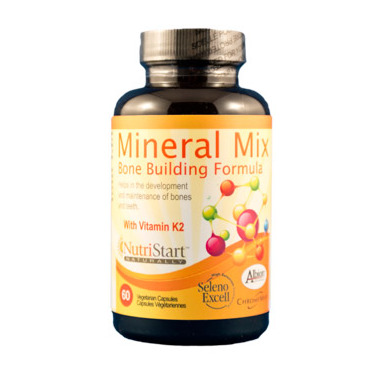 NutriStart Bone Building Mineral Mix
NutriStart Bone Building Mineral Mix uses coral calcium, which contains over 70 trace minerals, mineral-citrates and clinically-tested, patented mineral compounds, including Chromemate , SelenoExcell. Mineral Mix has the potential to rebuild bones and teeth. It is well known that all the calcium in the world won't rebuild bone mass. In fact excessive calcium is now linked to heart disease in menopausal women, and the best we can hope to do with calcium supplementation is to forbid further withdrawal from the bone mass. But, certain compounds will channel calcium, and other necessary minerals, back into the skeletal structure, actually allowing for a rebuilding of bones and teeth. These include boron, silica and vitamin K2, all of which are present in Mineral Mix.
Features & Benefits:
Builds strong bones and teeth
With vitamin K2, Boron, and Silica
Only two capsules per day
Highest quality minerals including trademarked, clinically tested minerals/strong
Provides most of your daily mineral requirements
Supports alkalinity in the body
Ingredients:
Mineral Mix Complex 2X
Calcium (Coral/Citrate) 200 mg
Magnesium (Oxide/Citrate) 200 mg
Copper (Albion Amino Acid Chelate) 1 mg
Zinc (Citrate) 15 mg
Manganese (Albion Amino Acid Chelate) 5 mg
Potassium (Albion Amino Acid Chelate) 99 mg
Iodine (Potassium) 100 mcg
Chromium GTF (ChromeMate tm) 200 mcg
Selenium (Seleno Excell tm) 100 mcg
Molybdenum (Albion Amino Acid Chelate) 30 mcg
Boron (Citrate) 2 mg
Vitamin K2 (MK7) 120 mcg
In a non-medicinal base of:
Silica (Aqueous Extract of Bamboo) 15 mg
Suggested Use:
Take two capsules once daily, with food, for maintenance purposes. Two capsule may be taken twice daily for therapeutic purposes.