NutriStart JointStart Supreme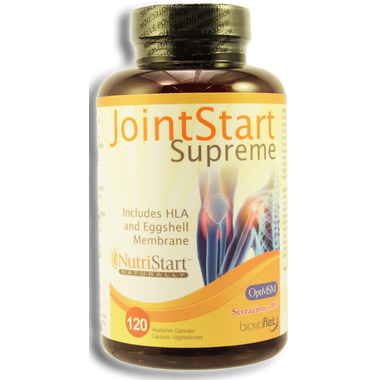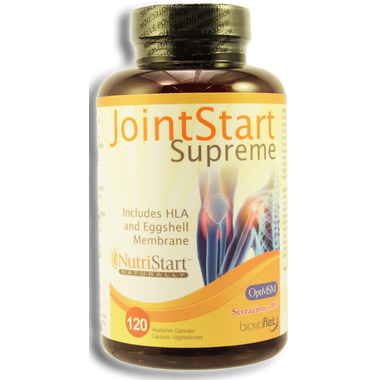 NutriStart JointStart Supreme
NutriStart has added two recently discovered nutrients that make NutriStart JointStart Supreme a remarkable healing formula for those with severe arthritis and/or joint pain. NutriStart JointStart Supreme with natural eggshell membrane and hyaluronic acid is the latest addition to the JointStart family. NutriStart JointStart Supreme offers fast, effective relief from joint pain and stiffness and is guaranteed to improve mobility and range of motion due to osteoarthritis. NutriStart JointStart Supreme is the best choice for rebuilding joints and osteoarthritis.
Features and Benefits:
Fast and Effective Relief for Joint Pain and Stiffness
Faster, more powerful pain relief with eggshell membrane and hyaluronic acid
Best choice for rebuilding joints and osteoarthritis
Starts working within 2 weeks
Reduce pain and feel great again
Suggested Use:
Take 3 to 6 caps daily, depending on severity of condition. Take on an empty stomach. Severe conditions require 6 caps per day for up to 2 weeks. When pain reduces cut the dosage in half, for maintenance. If the ginger causes a warming sensation in the stomach, take with a small amount of food, or more water.
Ingredients:Per Therapeutic Dose (6 caps):
Opti-MSM 1500mg
Glucosamine Sulfate 500mg
Glucosamine HCL 500mg
Turmeric Extract (C3 Complex) 600mg
Boswellia Extract (65% Boswellic Acids) 360mg
Serrazimes 1 (36,000 units protease) 60mg
Devil's Claw Extract (4:1) 150mg
Bromelain (1200 GDU) 300mg
Alfalfa Juice Concentrate (33:1) 500mg
Ginger Root Extract (4:1) 90mg
Contains no preservatives, colour, sweeteners, wheat, gluten, dairy or yeast.
Warning:
Consult with a physician before using this product if you are on any medications
Recommendations:
JointStart Premium will usually reduce pain within 3 to 5 days when taken at the recommended dosage of 3 capsules twice daily. In some cases, it may take 2 weeks for a marked improvement to occur. Once sufficient pain-relief has occurred, the dosage can be reduced to 3 to 4 capsules per day.
Store in a cool dry place. Keep out of reach of children.